Drink-driving law in Ireland introduces tougher penalties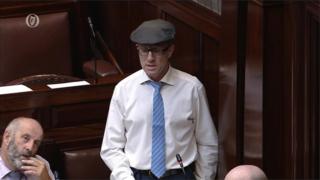 A controversial bill imposing stricter penalties on drink-drivers in the Republic of Ireland has been passed.
When enacted, the legislation will see first time drink-driving offenders facing automatic driving bans.
The law will also make it an offence for car owners to allow a learner to drive their car unaccompanied.
Seventy five TDs in the Dáil (Irish parliament) voted in favour of the new law on Friday, with eight against.
It has been strongly criticised by some independent TDs, who claim it is an attack on the rural community.
Protecting lives
Some of its opponents, including County Kerry TDs Michael and Danny Healy-Rae, engaged in a long-running campaign to delay the legislation by filibustering.
Their action infuriated other politicians and road safety campaigners who believe the measure is necessary to protect lives.
Transport Minister Shane Ross had pleaded for the legislation to pass through the Dáil, saying "the sooner this is passed, the more lives we save".
It means the current system of fines and penalty points for those found to be just above the drink driving limit will be abolished.
Relatives of drink-driving victims held a vigil outside the Dáil urging politicians to finally pass the new law.
The Irish Road Traffic Victims Association founder, Donna Price, had called on the rural independents to desist from their delaying tactics.
She said she deals with bereaved families who are "utterly destroyed forever".
"This year 70 lives have been lost. Last year it was 157. How many of those lives could have been saved if this bill had been in place and drink-drivers had been taken off the road?" she asked.
Dáil legislation also has to pass in the Seanad, the upper house, and to be signed by the president before it becomes law.