Beate Zschäpe given life in German neo-Nazi murder trial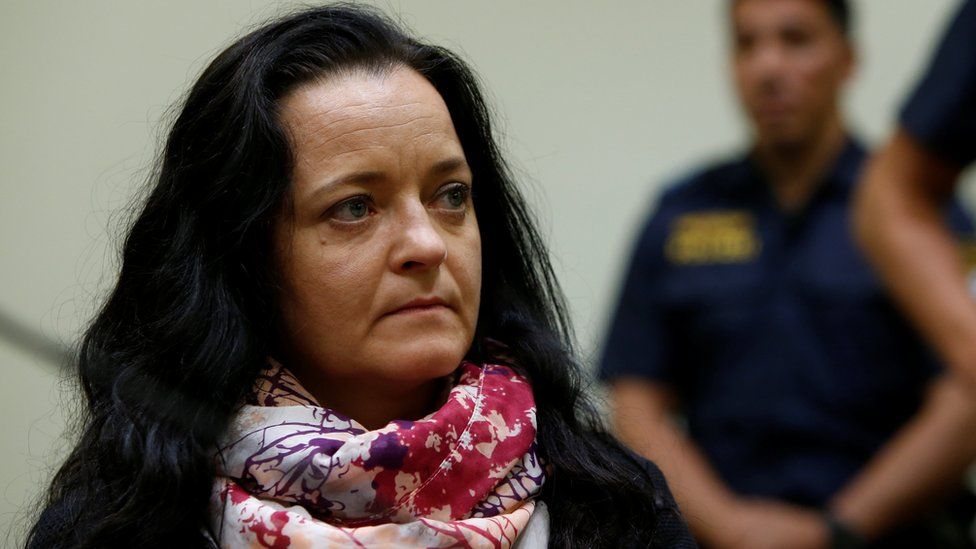 After a five-year trial, a member of a neo-Nazi gang has been found guilty of 10 racially-motivated murders.
Beate Zschäpe was the main defendant on trial over the murder of eight ethnic Turks, a Greek citizen and a policewoman between 2000 and 2007.
The Munich state court's verdict carries an automatic life sentence.
The connection between the murders was only discovered by chance in 2011, after a botched robbery led to the neo-Nazi group's discovery.
Zschäpe, 43, shared a flat in the eastern town of Zwickau with two men, who died in an apparent suicide pact. The bodies of Uwe Mundlos and Uwe Böhnhardt were found in a burnt-out caravan used in the robbery.
Zschäpe, Mundlos and Böhnhardt had formed a terrorist cell called the National Socialist Underground (NSU). A fire at their home - apparently in an attempt to destroy evidence - led to Zschäpe turning herself in.
The NSU's seven-year campaign exposed serious shortcomings in the German state's monitoring of neo-Nazis, and led to a public inquiry into how police failed to discover the murder plot.
More than 600 witnesses were heard in the Munich court, making the trial one of the biggest in Germany's post-war history.
Four other defendants were also given jail terms for their role in helping the NSU gang:
Ralf Wohlleben was sentenced to 10 years for aiding and abetting murder - he procured the silenced gun
Carsten Schultze, a juvenile at the time, was found guilty of handing the gang the pistol and silencer, and was given three years
André Eminger was given two years and six months for helping a terrorist group
Holger Gerlach received three years for giving his birth certificate and other ID to Uwe Mundlos
Speaking ahead of the verdict, Zschäpe's defence lawyer said she would appeal against any life sentence.
During the trial, Zschäpe denied taking part in the murders, saying she only knew of them after they were committed by Mundlos and Böhnhardt.
The NSU case covers 10 murders, two bomb attacks in Cologne, which left more than 20 people injured, and 15 bank robberies.
The murder victims were mainly ethnic Turks, shot during their working days with a CZ 83 handgun over the course of seven years.
One Greek victim, Theodoros Boulgarides, was also killed in 2005.
The final victim was Michèle Kiesewetter, a German policewoman, who was shot and killed while sitting in a patrol car on her break in 2007.
The link between the murders would only be discovered years later.
Why were the murders unsolved for years?
Police had long suspected that the killers were ethnic Turks in the victims' communities, earning them the nickname the "Bosphorus" murders after Istanbul's famous river. The derogatory term "doner murders" - in reference to kebabs - was used by some parts of Germany's press.
Investigators had thought some of the victims were killed following involvement in criminal activities - allegations that have since been retracted in court.
Victims' families, their lawyers and activists have long expressed their frustration at Germany's fragmented policing system, with 16 different jurisdictions for the 16 states.
They believe institutional racism hampered the investigation and the trial.
In particular, they have pointed to the domestic intelligence agency BfV, which destroyed and redacted files related to the terror cell after they became publicly known in 2011 and protected paid informants in the neo-Nazi scene from testifying fully.
Abdulkerim Simsek was 13 years old when his father, a florist and NSU's first victim, was killed in 2000.
He told German media seeing his father's bullet ridden body "was the worst day of my life".
He and other victims' relatives believe there are more perpetrators yet to be brought to trial. "Someone with local knowledge has scouted all the victims," Mr Simseks told German newspaper Süddeutsche Zeitung.
"This scout and other NSU helpers are still running free around here. That bothers me a lot."
Jenny Hill, Berlin correspondent
Zschäpe was smiling and relaxed in the minutes before she was sentenced to life in prison. The 43-year-old has spoken just twice during the five-year trial.
But while the guilty verdicts will probably be welcomed by the families of the victims, neither these proceedings nor a number of official inquiries have answered fundamental questions.
How and why did the killers select their victims?
And why did the German authorities - who relied on paid informants from within the neo-Nazi community and stand accused of institutionalised racism - seemingly do so little to protect them?
In 2011, an unusual DVD was received by some German press outlets.
It showed the iconic cartoon character the Pink Panther in a doctored cartoon, displaying messages from the NSU about the murders, along with spliced footage of the bombings.
On 4 November 2011, Mundlos and Böhnhardt robbed a bank in a German town, one of a string of similar heists. This time, police were able to follow them to a caravan they had hidden in.
Despite being armed, the pair did not put up any resistance - and were found dead inside. Investigators believe Mundlos shot Böhnhardt before killing himself.
Zschäpe, now the only surviving member of the NSU trio, apparently set fire to the apartment where all three had lived together in Zwickau. She turned herself in a few days later.
The fire damage to her home had not destroyed everything - and investigators found a copy of the Pink Panther DVD, linking the trio to the NSU name and the murders.
The suspected murder weapon - the Ceska pistol - was also found in the ruins.
The public now knew a neo-Nazi cell had operated with impunity for 11 years, murdering 10 people - and had remained unknown to police.
In July 2015 the German parliament, or Bundestag, passed a set of reforms giving greater power to the BfV to avoid a repeat of the failures in the NSU investigation.
It included key changes to the use of paid informants, known as "V-Leute".