Michael D Higgins to seek second term as Irish president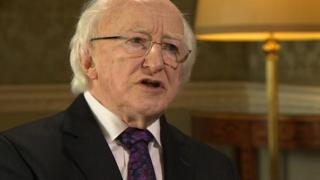 The Irish President, Michael D Higgins, has confirmed that he is to stand for re-election for a second term.
The 77-year-old former trade unionist was elected in 2011 for a seven-year term.
The main opposition party, Fianna Fáil, and the Irish Labour Party have expressed support for President Higgins.
The leading government party, Fine Gael, is expected to do the same.
If other candidates decide to contest the election they will need the backing of either 20 members of the Irish parliament or four local authorities.
Sinn Féin will make a decision on Saturday if it will put forward a presidential candidate. It is expected the party will contest the election.
If an election does go ahead, it is expected to take place on 25 or 26 October.