Irish prime minister welcomes UK Brexit statement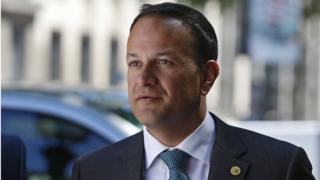 The Irish prime minister (taoiseach) has described the Brexit statement made by the UK government at Chequers over the weekend as welcome.
Leo Varadkar said his government would not be in a position to give a detailed response until after the publication of the UK's Brexit White Paper.
He said he had a good conversation over the telephone with Theresa May on Saturday.
Mr Varadkar was speaking in the Dáil (Irish parliament).
He said the approach outlined at Chequers could have an input into talks on the future UK EU relationship.
Mr Varadkar added that if the UK relaxes its red lines, then the EU should be able to do the same and "we are perhaps entering that space".
The leader of Fianna Fáil, Micheál Martin, argued that credit should be given to Mrs May for navigating the UK towards what he termed a "new Brexit realism".
Mr Martin stressed the importance of unimpeded East West trade to the future of the Irish economy.
Sinn Féin President Mary Lou McDonald accused the Conservatives of playing for time over Brexit and openly reneging on the backstop negotiated for Ireland.
Ms McDonald asked Mr Varadkar if his government would stand over the legal text published by the EU in March - which the UK has already rejected as unacceptable as it would separate Northern Ireland from the rest of the UK when it comes to customs tariffs and trade regulations.
The taoiseach replied that he is not hung up on the legal text but what it is intended to achieve, namely a guarantee that there should no hard border in the island of Ireland.
Mrs May's new-look cabinet met for the first time on Tuesday, after a string of resignations over her Brexit strategy left her government in crisis.
The prime minister was forced to carry out a reshuffle of her top team after Foreign Secretary, Boris Johnson, and Brexit Secretary, David Davis, both quit.
Last Friday at the prime minister's country retreat at Chequers Mrs May brokered a "collective" agreement on proposals for the future relationship between the EU and UK.
However, Mr Johnson - whose departure on Monday followed that of Mr Davis and several junior figures - accused Mrs May of pursuing a "semi-Brexit".
Mr Varadkar said the resignations of Mr Davis and Mr Johnson are "internal matters" for the UK government.
He said he looked forward to reading the UK government's white paper.