Ryanair to cancel up to 30 flights on Thursday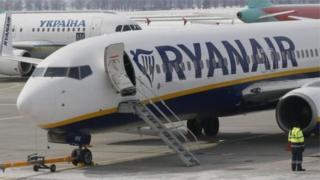 Ryanair has confirmed that it is to cancel up to 30 flights to and from Ireland on Thursday.
It is the result of a strike by pilots who are due to walk out for 24 hours from 01:00 BST on Thursday.
The airline has said only flights between Ireland and the UK will be affected.
The announcement comes despite the fact that Ryanair and union officials are set to meet for talks on Wednesday.
In a statement on its website, Ryanair said that it would cancel up to 30 of its' 290 flights on Thursday, with only "some UK-Ireland flights affected".
'Regrettable disruptions'
"All Ireland to Europe flights will operate as normal," it said.
"Customers who are travelling on a Ryanair flight to/from Ireland on Thursday 12 July and who have not already received an email or text notification, then we expect their flight to operate and they should check in as normal at their departure airport on Thursday 12th.
"We apologise to our Irish customers for these regrettable disruptions which we have done our utmost to avoid."
Ryanair said it had planned for the strike by trying to "minimise the impact" on "families travelling on holidays to Portugal, France, Spain, Italy and Greece".
"We will do this by cancelling a number of flights on high frequency routes from Ireland to London and other UK destinations where customers can transfer readily to other flights on Thursday or switch their travel to earlier flights tomorrow (Wednesday) or later on Friday, Saturday or subsequent days."
The Irish Airline Pilots' Association (IALPA) ballot of those directly employed by Ryanair resulted in overwhelming support - 99% - for action, although Ryanair says this only represents 27% of its workforce in the Republic of Ireland.
Further strikes planned
The Fórsa trade union, of which the IALPA is a branch, said it remained determined to work toward resolving the outstanding issues.
"Fórsa wrote to the company (on Monday) to confirm the pilots' body has proposed and reserved a 'neutral' venue in order to allay concerns expressed by Ryanair that a meeting between the parties would risk becoming a 'media circus'," it added.
The airline has said it "cannot rule out further disruptions in July and August".
Cabin crew in Italy will go on strike for 24-hours on 25 July, while crew in Spain, Portugal and Belgium will strike for 48 hours on 25-26 July.
Unions have said further action may follow if the airline does not make concessions on some employment terms.