Jailed ex-bank boss David Drumm given suspended sentence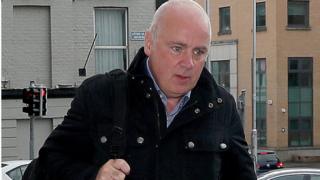 Jailed former Anglo Irish Bank chief executive David Drumm has been given a suspended sentence of 15 months for giving illegal loans.
In June, he pleaded guilty to ten counts of authorising or permitting Anglo to give unlawful financial assistance to ten developers.
The sentencing brings to an end almost a decade of criminal investigations into the former Anglo Irish Bank.
Drumm, 51, is already serving a six-year jail term.
He was found guilty in June of authorising a €7.2bn (£5.4bn) conspiracy to defraud and of false accounting.
Anglo Irish, which was nationalised in 2009 and wound down from 2011, was synonymous with the lending practices that drove the 'Celtic Tiger' boom and subsequent bust, pushing the Republic of Ireland to the brink of meltdown in 2010.
On Tuesday, prosecution lawyers told the court they intend to withdraw the remaining 21 charges against Drumm.
The sentence came for this involvement in making illegal bank loans to 10 of the Anglo-Irish Bank's wealthiest customers, known as the Maple 10, in July 2008.
In 2014, Pat Whelan and Willie McAteer, two former colleagues of Drumm, were sentenced to community service for their involvement in the illegal loans.
The trial judge said jailing the pair would be unjust as they believed they had acted lawfully over the loans.