Ryanair confirms strike will go ahead as talks break up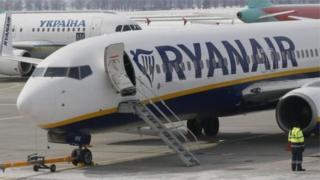 Ryanair has confirmed that 30 flights to and from Ireland and the UK will be cancelled on Thursday after talks between management and unions broke down.
The airline has said it "expects limited disruption" in addition to the cancelled flights.
It is the result of a strike by pilots who are due to walk out for 24 hours from 01:00 BST on Thursday.
The airline has said only Ireland-UK flights are affected.
Ryanair and union officials met for talks on Wednesday which ended without agreement.
No impact on Ireland-Europe flights
According to a statement from Ryanair, the meeting lasted for seven hours.
The pilots' union Fórsa, of which the Irish Airline Pilots' Association (IALPA) is a branch, had earlier said it was not optimistic that a deal could be reached to avert the strike.
Flights between Ireland and Europe are set to operate as normal.
"All customers who are travelling on flights to/from Ireland on Thursday 12 July who have not received any email or text notifications of flight cancellations should travel to their departure airport as normal," Ryanair said in a statement.
Earlier in the week the airline said it had planned for the strike by trying to "minimise the impact" on "families travelling on holidays to Portugal, France, Spain, Italy and Greece".
"We will do this by cancelling a number of flights on high frequency routes from Ireland to London and other UK destinations where customers can transfer readily to other flights."
The IALPA ballot of those directly employed by Ryanair resulted in overwhelming support - 99% - for action, although Ryanair says this only represents 27% of its workforce in the Republic of Ireland.
Further strikes planned
The airline has said it "cannot rule out further disruptions in July and August".
Cabin crew in Italy will go on strike for 24-hours on 25 July, while crew in Spain, Portugal and Belgium will strike for 48 hours on 25-26 July.
Unions have said further action may follow if the airline does not make concessions on some employment terms.