World Cup 2018: Brussels metro commuters endure French team's anthem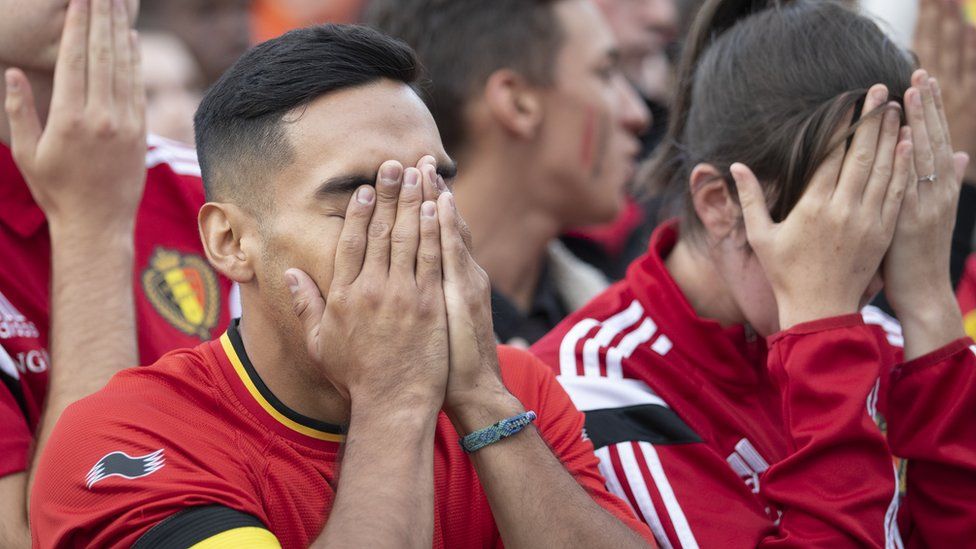 Commuters on the Brussels metro were forced to listen to the French football team's anthem after the company that runs the transport system lost a bet.
The Brussels public transport authority (STIB) was challenged by its Paris counterpart ahead of Tuesday's World Cup match between France and Belgium.
In the event that Belgium won, Paris agreed to change signs at one of its stations to honour a Belgian player.
However, Belgium lost 1-0, and so STIB had to play the anthem at its station.
"A bet is a bet," were the words tweeted from the official STIB Twitter account following the match.
Footage posted on social media showed people at the Brussels metro station subjected to the anthem "Tous Ensemble" (All Together) by the late French singer Johnny Hallyday between the hours of 08:00 and 10:00 (06:00-08:00 GMT) on Wednesday.
Paris had earlier agreed that if Belgium beat France in the semi-final match in St Petersburg, it would change the signs on display at its central Saint-Lazare station to "Saint Hazard" in a nod to the Belgian midfielder Eden Hazard.
The Paris metro operator RATP responded to the footage at the Brussels station with "well done", and said it had already prepared a plaque should it have lost the bet.