Is Russia the real winner of World Cup 2018?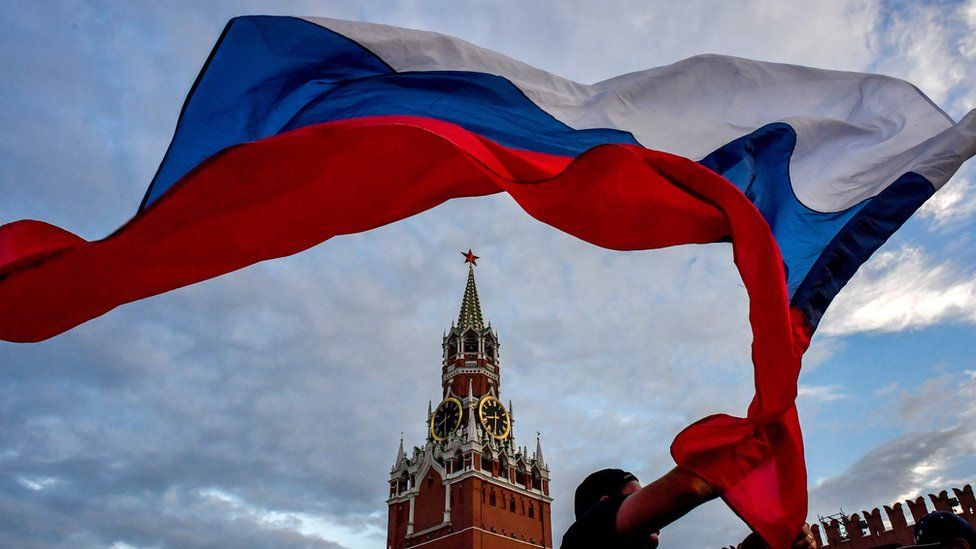 The 2018 World Cup has been seen as a public relations triumph for Vladimir Putin's Russia, but beyond the football concerns remain about the country's commitment to democracy, human rights and the international order.
For the last month, I have barely recognised Moscow.
Like the tornado in the Wizard of Oz, the World Cup blew into town and swept me away from a sepia world, over the rainbow, to a Technicolor dreamland.
In this land of Oz, otherwise known as "World Cup Russia", football fans from across the globe thronged the streets of central Moscow.
They sang, danced and partied through the night in a sea of Mexican sombreros, Peruvian ponchos, Icelandic Viking helmets and, of course, Russian tricolours. Even the normally stern-faced Russian police officers were cracking smiles.
In more than 20 years of living in Moscow, I cannot remember a time when the city has felt more relaxed, more cosmopolitan, more welcoming.
Neither can I remember President Putin scoring such a resounding public relations success.
The stunning new stadiums, free train travel to venues and the absence of crowd violence has impressed visiting supporters. Russia has come across as friendly and hospitable: a stark contrast with the country's authoritarian image. All the foreign fans I have spoken to are pleasantly surprised.
"I thank the Russian people for their hospitality," England supporter Darren from Blackpool told me near Red Square. "Everything the British government has said about Russia is a lie. It's propaganda. Fair play to Putin. He's done a brilliant job with the World Cup."
One of the lasting images of this tournament is that of a smiling Vladimir Putin basking in the glory of his World Cup, as he chats to a group of footballing legends.
Among the soccer stars invited to the Kremlin that day were England's Rio Ferdinand and Denmark's Peter Schmeichel. They got tea, Mr Putin got praise.
"This is the one of the best World Cups I have seen in the last 40 years," gushed Germany's Lothar Matthaus. "Thank you Mr President. Thank you Russia."
"I was told people, police in Red Square are smiling," Fifa President Gianni Infantino remarked to the Kremlin leader. "This is great. This is exactly what Russia is. This is the new image that we have about Russia."
I am delighted that visitors to World Cup Russia have experienced some of the things that I love about this country: the warmth of the people, their humour, their generosity. I am pleased that police on Red Square have been smiling.
But a brief trip to this land of Oz is not enough to form a complete picture of Vladimir Putin's Russia. Police officers may be smiling now. But they were not smiling last May when they broke up an anti-Putin protest on Pushkin Square.
A successful World Cup does not change the trend: in recent years democracy, human rights and freedom of speech in Russia have been under attack.
An increasingly belligerent Russia annexed Crimea and has intervened militarily in eastern Ukraine. Russia stands accused of cyber attacks, of meddling in western elections and of carrying out the Novichok nerve agent attack in Salisbury.
All of which the authorities here deny, and dismiss as Russophobia.
Moscow has also denied any connection to the death of Dawn Sturgess, who was recently exposed to Novichok in Amesbury. In their coverage, state media here have suggested that Britain has used the incident to spoil Russia's World Cup triumph.
As for Russian officials, they are using praise from foreign football fans to try to discredit allegations against their country.
"The problem with Russia's image wasn't created by Russia," says Konstantin Kosachev, who chairs the foreign affairs committee of Russia's upper house of parliament.
"It was created by countries like the United Kingdom, spreading false information about Russia as a country.
"They failed. We are happy that so many people in the UK and in other countries had a unique chance not to see channels like BBC telling stories about Russia, but to see the real Russia with their own eyes."
"But we've reported many positive things about Russia," I point out. "I don't know, I don't follow the BBC, unfortunately," admits Mr Kosachev.
As the World Cup ends, the challenge for the Kremlin will be to convert a short-term PR success into long-term diplomatic gains.
Much will depend on the wider geopolitical game Russia is currently playing. And here, too, it appears President Putin is winning.
On Monday he meets Donald Trump for a summit in Helsinki: with Russia under western sanctions, that is a diplomatic coup for Moscow.
"We seem to be victorious everywhere," believes former Kremlin foreign policy advisor Sergei Karaganov.
"I am afraid of that, because it's too good to be true. After all, we are continuously hitting well beyond our weight. But if we do it well, then why not?"