Croatia's Luka Modric: Chequered past haunts World Cup star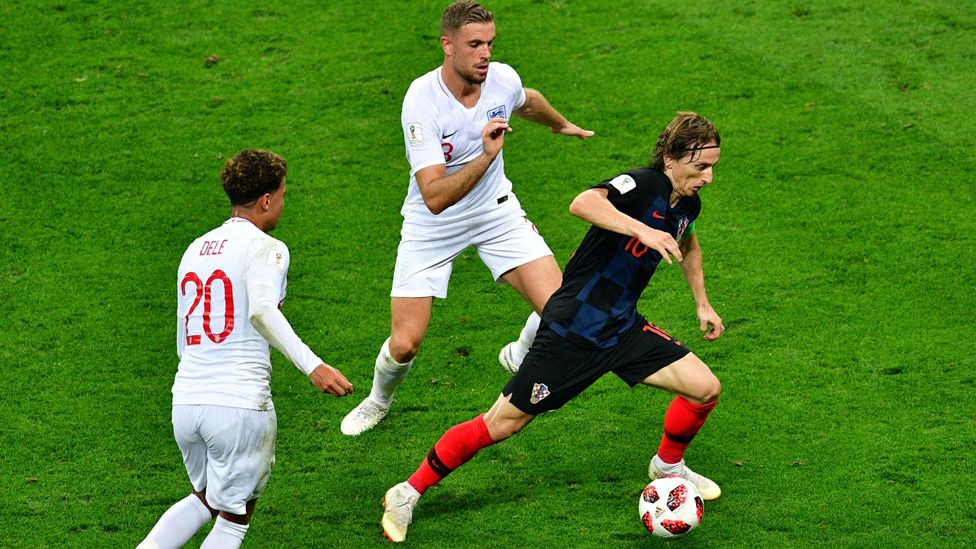 Luka Modric, captain and midfield general, is the undoubted star of Croatia's national team.
He has been the official Man of the Match in three of Croatia's six World Cup fixtures.
Even missing a penalty in extra time against Denmark left him unfazed. He calmly slotted home a spot-kick in the subsequent, triumphant shootout.
But plenty of football fans in Croatia have been groaning at the Real Madrid star's feats - or even booing him as a pantomime villain.
Telesport columnist Juraj Vrdoljak says negative emotions about the Croatia captain run deep.
"A friend called me straight after the Denmark match. He said: 'When Modric missed that penalty, for a second I thought: there is a God'."
If a penalty miss by your own team's captain qualifies as divine intervention, then something is clearly very rotten with the state of Croatian football. And for many supporters, Modric embodies the putrefaction.
He is at the heart of a corruption scandal which continues to divide Croatia's football fans - even as their national side has reached heights previously unscaled in its short World Cup history.
Modric was supposed to be the star witness at the trial. He had told anti-corruption investigators that Mamic had altered paperwork in order to divert millions of euros of the transfer fee to his own pocket, swindling both Dinamo and Croatia's tax authorities.
Many football fans had been longing for Mamic to be brought to justice for years. Dinamo supporters accused him of carrying out a "silent privatisation" of their club, which is supposed to be a non-profit organisation owned by its members.
The main fan group, The Bad Blue Boys, boycotted Dinamo matches. Juraj Cosic was among the supporters who founded a breakaway team, Futsal Dinamo.
"Dinamo before was a club of the fans - now we just have the name. The people were forced out; we don't have the passion anymore," he says.
That loss of passion also applies to the national team, whose followers saw Mamic as a malign presence at Croatia's football association, influencing team selection to boost player transfer values. Supporters staged sometimes ugly protests at national team matches.
"It was crony capitalism," says football sociologist Ben Perasovic. "Zdravko Mamic is a typical member of the new rich class.
"What would change the situation is a change of structures - a change of regulations in the Croatian Football Federation, and also new people."
Read more on Croatia's football drama:
When Modric testified last summer, supporters pinned their hopes on him effecting that change, by repeating his statement incriminating Mamic. But Modric's testimony soured public perception of their erstwhile idol.
"Modric was tragic," says Juraj Vrdoljak.
"He basically denied everything, claiming that he couldn't remember. The public became completely furious with him."
Mamic fled to Bosnia the day before the verdict and has no intention of returning to Croatia.
Modric is facing a charge of perjury, with a possible maximum sentence of five years in prison.
It gives a new twist to the usual clichés of footballers playing under pressure.
Modric is not just aware that, at almost 33, this may be his last major international tournament, but that he faces jail time if found guilty of lying in court.
It seems like a minor tragedy in a life story which would, without the Mamic affair, reflect a barely-credible triumph over significant adversity.
Modric's family lost their home during the 1990s war which resulted in Croatia's independence; his grandfather was among the casualties. He learned to play football in the corridors of a hotel in the coastal town of Zadar, close to the frontline.
Modric developed his talents at NK Zadar but was considered too small by the recruiters at the nearest big club, Hajduk Split.
Dinamo Zagreb took a chance on him in 2002 - but it still took three years and loan moves to the Bosnia side Zrinjski Mostar and Croatia's Inter Zapresic to convince Dinamo that he could make it at the top level.
At this point, Modric entered a business relationship with Mamic, sowing the seeds of future trouble.
Now, with their team one match away from becoming world champions, there is a clear division in Croatia.
There are those who believe that Modric is on the verge of disrupting the Messi-Ronaldo duopoly at the Ballon d'Or award for the world's best footballer. And others who maintain that Modric must pay the price for apparently siding with his mentor and altering his testimony.
"The situation is so polarised," says Juraj Vrdoljak.
"A lot of people who don't normally follow football have become engaged. But for those who denounced the national team, Modric will have to face trial for perjury when he comes home, with the trophy or without. Mamic is still there, and his people are still running Croatian football."
There will certainly be historic scenes of jubilation if Croatia win the World Cup. But the dark cloud still hovering over the national team casts the longest shadow over its captain.