World Cup: Pussy Riot protesters jailed over pitch demonstration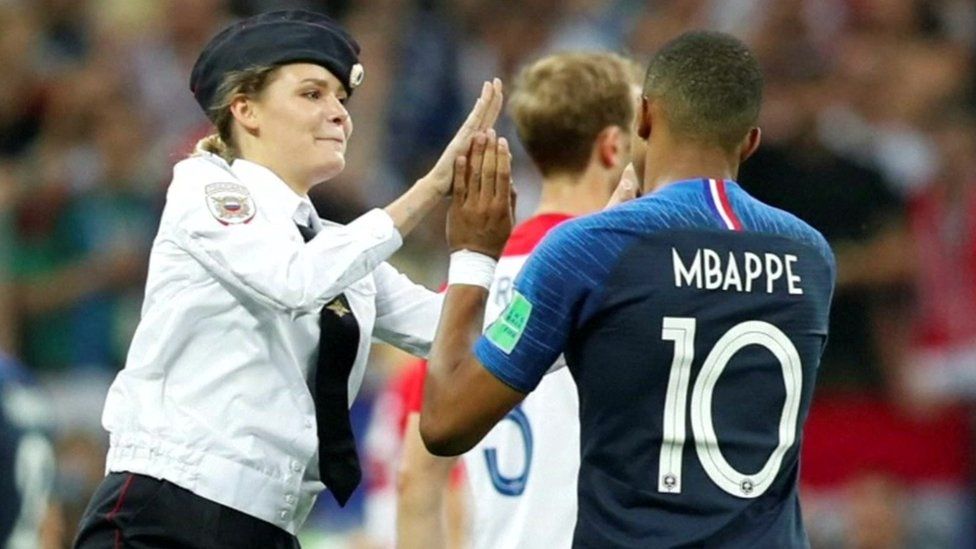 Four members of the Russian punk activist group Pussy Riot have been jailed for 15 days for disrupting the World Cup final by running onto the pitch.
They were accused of violating the rules for spectators at sporting events and wearing police uniforms illegally.
They were also banned from attending sports events for three years.
Pussy Riot said it was a protest against human rights abuses in Russia. Stewards hauled the four off the pitch.
The incident interrupted the second half of the Croatia v France match for about 25 seconds. France went on to win 4-2.
Pussy Riot has staged high-profile protests against President Vladimir Putin before. Three members were jailed in 2012 for an anti-Putin punk song performed in a Moscow cathedral.
Three women and a man ran onto the pitch, though one was tackled on the sidelines. They wore police-style uniforms: white shirts, black trousers and epaulettes.
One woman managed to do a high-five salute with French star Kylian Mbappé before being led off the pitch.
But the male intruder was grabbed in anger by Croatia defender Dejan Lovren. After the incident Lovren told reporters: "I just lost my head and I grabbed the guy and I wished I could throw him away from the stadium."
The man was identified as Pyotr Verzilov, husband of Nadezhda Tolokonnikova. She was among three Pussy Riot members jailed in 2012.
The three women World Cup intruders were named as Nika Nikulshina, Olga Kurachyova and Olga Pakhtusova.
A statement from Pussy Riot said the aims of their protest included making the Russian authorities:
Free all political prisoners
Stop illegal arrests at public rallies
Allow political competition in the country
Stop fabricating criminal cases and jailing people on remand for no reason
The statement quoted a Russian poet, Dmitry Prigov, who had contrasted the "heavenly policeman who speaks to God on his walkie-talkie" with "the earthly one who fabricates criminal cases".
An angry voice is heard shouting at Mr Verzilov and one of the women - looking dishevelled in their mock police uniforms.
"Sometimes I regret that it's not 1937" the person off-camera says, alluding to the communist-era terror campaign instigated by Soviet dictator Joseph Stalin.