Irish cabinet plans for no-deal Brexit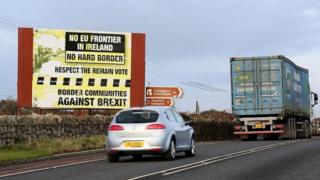 The Irish government is due to discuss contingency plans for a hard Brexit.
Foreign Minister Simon Coveney will present a paper to the cabinet outlining preparations "for all scenarios".
It will focus on measures that need to be taken in regard to trade with Great Britain, such as customs and veterinary controls at ports and airports.
There are no official plans for a hard border, as the UK and EU have given guarantees that will not happen.
Writing in the Irish Times, Mr Coveney said: "As a responsible government, we have been preparing for different types of Brexit and we will continue planning for the unlikely case of a "no deal" Brexit.
"Different scenarios trigger different responses and some of our 'no deal' planning will have to remain confidential for now, given that negotiations are ongoing."
Some "preparedness work" was now likely to become more visible, said Mr Coveney, but this should not be interpreted "as a reflection on the state of play in the negotiations".
It has been reported that he will say that hundreds more customs officers will be needed, regardless of the Brexit deal.
An impact study produced for the Irish government earlier this year suggested the country's economy would suffer a 7% hit as a result of a no-deal Brexit.
The work considers four scenarios for the UK:
Remaining in the single market
A customs union
A trade agreement
A (worst case) WTO scenario
The study does not suggest the Irish economy would shrink in absolute terms.
Instead, it looks at how it would perform under each scenario, up to 2030, compared to current forecasts.