Catalan case: Spain drops warrant against Puigdemont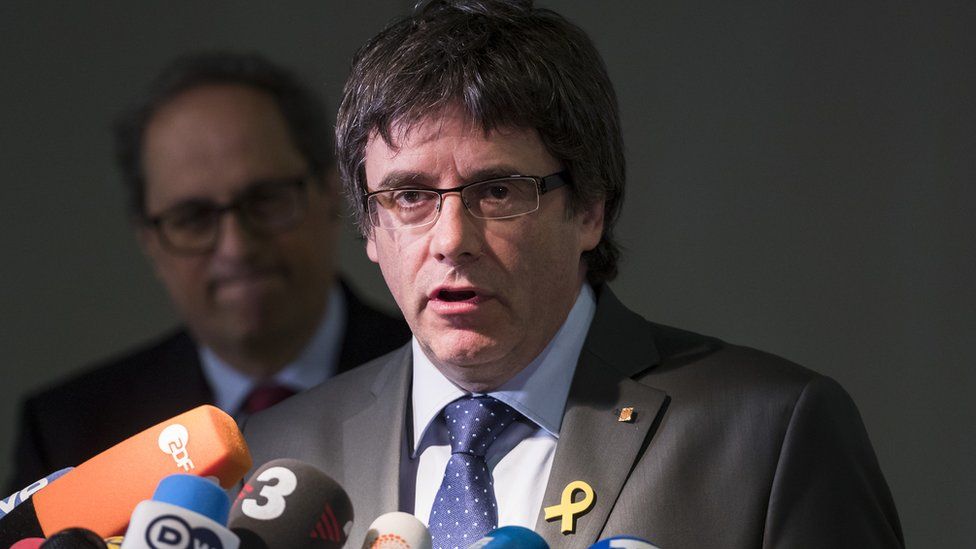 Spain's supreme court has withdrawn its European Arrest Warrants against former Catalan president Carles Puigdemont and five of his aides who remain abroad.
A German court ruled earlier that Mr Puigdemont could not be extradited to face the Spanish charge of rebellion over Catalonia's push for independence.
Rebellion is the most serious charge levelled against Mr Puigdemont.
But the charges against the six Catalan separatists remain, meaning they still face arrest if they return to Spain.
The Schleswig-Holstein regional court in Germany accepted that Mr Puigdemont could be extradited for the charge of misusing public funds, but not for rebellion or sedition.
Spain's top judge Pablo Llarena says that in doing so, the German court showed a "lack of engagement" with the case and violated the arrest warrant rules. He accused it of undermining the Spanish supreme court's powers.
Read more stories on the Catalonia crisis:
Spain outlawed the independence referendum held in Catalonia on 1 October. It also considers the subsequent Catalan independence declaration illegal.
Facing arrest in Spain, Mr Puigdemont fled to Belgium and then moved on to Germany, where he remains on bail and has been fighting extradition.
The other Catalan separatists wanted in Spain are: Antonio Comin, Luis Puig, Meritxell Serret, Clara Ponsatí and Marta Rovira.
Nine other top Puigdemont aides, including Oriol Junqueras, have been jailed in Spain pending trial.
Last month Spain ended its temporary direct rule over Catalonia, as a new nationalist-led government was sworn in there, headed by Quim Torra, who is an ally of Mr Puigdemont.
Judge Llarena said the German court handling the Puigdemont case had shown "a lack of engagement with certain facts that could have broken Spain's constitutional order".
He said the court ought to have taken its concerns about the arrest warrant to the European Court of Justice for a ruling.
Authorities in Belgium have already rejected the Spanish warrants against Antonio Comín, Luis Puig and Meritxell Serret.
Clara Ponsatí is in Scotland and Marta Rovira is in Switzerland.