Russia World Cup: How Pussy Riot managed to burst into final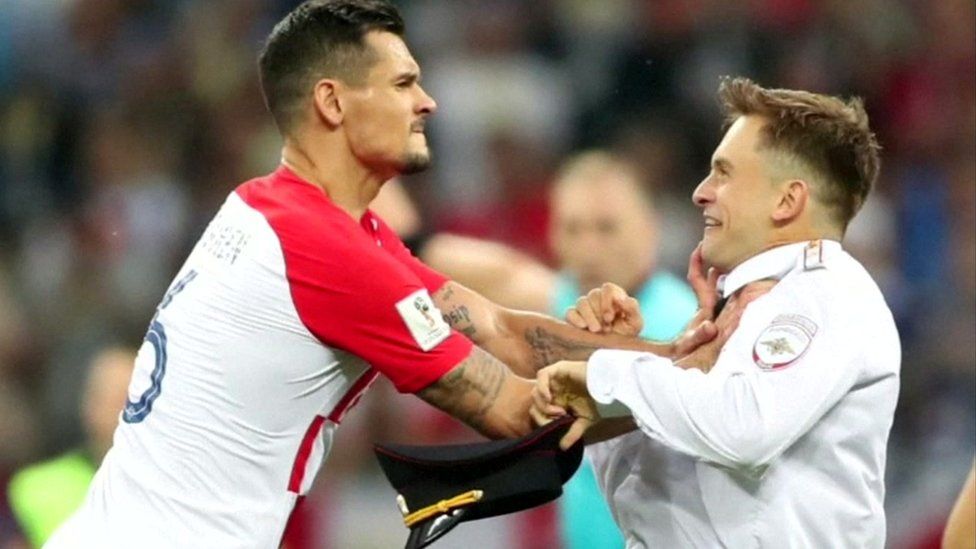 A Pussy Riot activist who ran onto the pitch during the World Cup final says the stunt worked because of Russian deference for authority.
Pyotr Verzilov said it was easy for him and three female activists to buy police uniforms, used in order to slip past security at the Croatia-v-France match in Moscow on 15 July.
"No one stopped us," he told BBC Russian, when interviewed at a prison north of the capital.
"I know the Russian psychology: a police uniform is sacred. Nobody will ask for your permit or accreditation.
"I pretended to be yelling into my phone - 'Nikolayich, where do you want me to look for them?!' - and I gestured to the steward to let me through the gate. He opened it."
Pussy Riot - a feminist punk group opposed to President Vladimir Putin - said the "performance art" was intended to draw attention to human rights abuses in Russia.
Their pitch invasion in the second half lasted about 25 seconds - they stopped play but were quickly hustled off by stewards. France went on to win 4-2.
Activists Veronika Nikulshina, Olga Kurachyova and Olga Pakhtusova are being held in a jail in the south of Moscow.
"We were speaking for Russia," Verzilov told the BBC.
"Throughout the World Cup, which I really enjoyed, there wasn't a word of political criticism [against the government].
"I categorically disagree with Western countries who call for a boycott of Russian sporting events. But to avoid criticising what's going on in Russia today is wrong."
President Putin however saw the World Cup as a great achievement for Russia. On 18 July he told a Moscow forum that visitors had praised Russia's facilities and "hospitality and friendliness".
"The improved squares and streets of our cities have become points of attraction, friendship and communication for tourists," he said.
And at his swearing-in as president in May he said openness was vital for Russia's future. He called for "a free society that is open to all new and cutting-edge advances, while rejecting injustice, ignorance, crass conservatism and bureaucratic red tape".
Read more on Pussy Riot's protests:
Pussy Riot's protest took four weeks of planning, Verzilov said, although they had got hold of tickets for the final six months ago.
"We bought several tickets on the Fifa website, and supporters of Pussy Riot in other countries obtained tickets for us too," he said. "We sat in ordinary seats, we weren't in the VIP zone."
Getting hold of police uniforms had been easy, Verzilov said. When police officers demanded to know where he had got them, he said, he answered the same way that President Putin had, when he was asked about Russian troops in Crimea.
Verzilov said: "I told them that Putin himself said you can pick up any military uniform you like these days, that it was easy to do and that it would set you back about 5,000 roubles [£61; $79]."
To look the part, he said, he had had to shave for the first time in three years. "I told my barber I needed to look like a police officer."
One of the women protesters wore a wig, because she normally has pink hair, he said.
They had rehearsed by running around a local football pitch.
The four had gone to the match in ordinary clothes, carrying the police uniforms in rucksacks. Nobody asked about the clothes at the bag check, going into the stadium.
At half-time the group changed into their police uniforms in the toilets. Shortly after that they leapt into the world's spotlight.
One of the women high-fived the young French star Kylian Mbappé.
But Croatia defender Dejan Lovren grabbed Verzilov in anger.
Pussy Riot's motive was to get political prisoners released, stop the arrests of people at political rallies, or for posting "likes" on social media, and end trumped-up cases against dissidents in Russia, Verzilov told the BBC.
Pussy Riot first drew international attention when they performed an anti-Putin punk song in Moscow's Cathedral of Christ the Saviour in 2012, wearing colourful balaclavas. Three women were jailed in labour camps for that "blasphemy".