Ryanair: Dublin-based pilots third day of strikes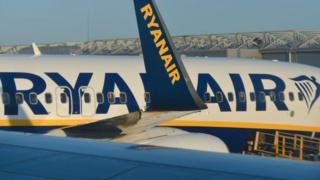 Ryanair has apologised to 2,500 customers who were due to fly on Tuesday but had their flights cancelled due to on-going strikes.
Dublin-based pilots are staging their third 24-hour strike, resulting in the cancellation of 16 flights.
They are in dispute with Ryanair over a number of issues including annual leave, seniority and base transfers.
Staff in Italy, Spain, Portugal and Belgium are due to strike on Wednesday and Thursday.
Ryanair says the customers on the cancelled flights to and from the Republic of Ireland on Tuesday were either accommodated on alternative flights, or offered a refund.
On Tuesday, Bernard Harbor, from Ryanair pilots' union Fórsa, said there had been no movement on the issues and he was not optimistic further strikes could be avoided.
The low-fares airline say they are available to meet the Irish pilots union, Fórsa, "at any time" and have called for the union "not to disrupt any more customer holidays".
Fórsa will meet on Wednesday to discuss further strike dates.
Meanwhile, cabin crew in Spain, Portugal, Italy, and Belgium will strike on Wednesday and Thursday affecting up to 100,000 customers.
Ryanair has cancelled 600 flights that were due to fly on Wednesday and Thursday but say that the majority of European customers will not be affected.
To date, the strike by directly-employed pilots based in Ireland has forced Ryanair to cancel 70 flights and reschedule or refund more than 11,000 customers.