Greek fires: 'Hearts empty' over death of Irishman Brian O'Callaghan-Westropp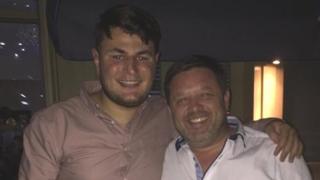 A newly-married Irishman who died in wildfires in Greece was a "lovely man" who "would do anything for anyone," a family friend has said.
Louise Jay, from Birmingham, said that the death of Brian O'Callaghan-Westropp was "a big loss to our family".
Mr O'Callaghan-Westropp, who is godfather to Mrs Jay's son, was caught up in the fires in the seaside resort of Mati during his honeymoon.
His wife Zoe Holohan, from Dublin, suffered burns to her head and hands.
She is being treated in hospital.
The couple were travelling in a vehicle when they were forced to flee.
Ms Holohan was able to escape to a nearby beach and was admitted to hospital on Wednesday night.
"Our hearts feel empty," Mrs Jay told BBC News NI.
"We all loved him so much. The last time we saw him was 30 June when he attended my husband Mark's surprise 50th birthday.
"He was so happy to come and catch up with old and new friends and really enjoyed himself."
Mrs Jay said that Mr O'Callaghan-Westropp, who is originally from County Clare, treated her children Scott and Zoe "like his own even though we live in Birmingham".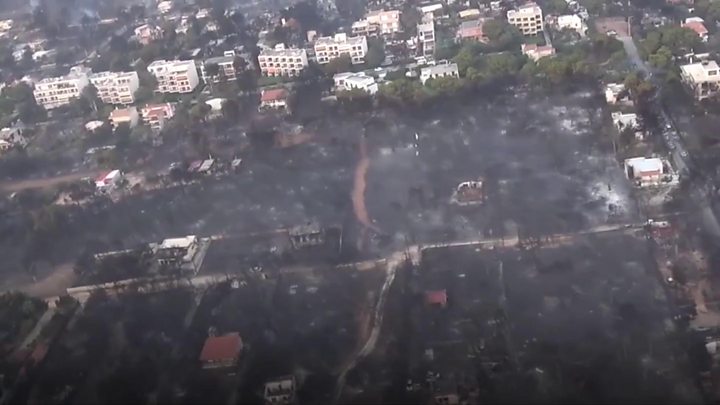 "Being a godfather to my son was a real honour to him," she said.
"Brian was such a lovely man. He would do anything for anyone, always had that happy smile and had so many friends - and they all meant something to him."
In a statement, Mr O'Callaghan-Westropp and Ms Holohan's families said they were "deeply saddened" by his death.
They also asked for privacy "as we grieve and as Zoe makes her recovery".
Orla O'Hanrahan, the Irish Ambassador to Greece, said "sympathies and hearts go out to his family at this time".
Greece's citizen protection minister said on Thursday that arson is the suspected cause of the forest fire.
More than 70 people have died in the wildfires which have devastated a number of Greek villages and holiday resorts.