Swedish crown jewels: Speedboat thieves steal priceless treasures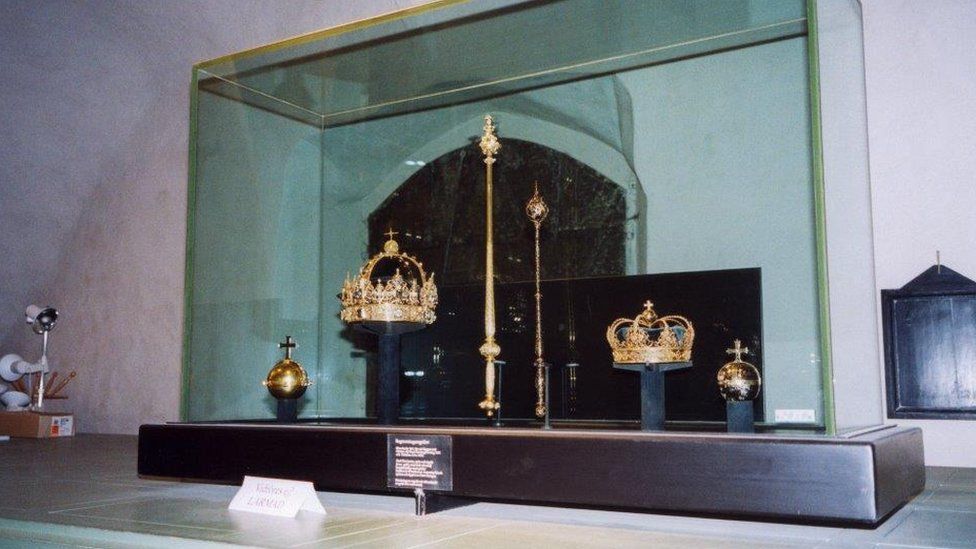 Police in Sweden have launched a manhunt after thieves swiped some of the country's crown jewels from a cathedral and escaped by speedboat.
Two priceless crowns and an orb belonging to a 17th Century king and queen were taken at around midday on Tuesday in Strängnäs, near Stockholm.
Witnesses said they saw two men running from the cathedral, which was open to the public and hosting a lunch fair.
They were seen motoring off into Lake Malaren, and have not been seen since.
Police have launched a huge search operation, but currently have no suspects.
"It's 1-0 to them right now," police spokesperson Thomas Agnevik told Swedish media. "It is not possible to put an economic value on this, it is invaluable items of national interest."
The royal jewels are adorned with gold, precious stones and pearls, and come from the 1611 funeral regalia of Sweden's Charles IX and Kristina the Elder.
A witness, who is getting married in the Strängnäs Cathedral next week, told local news channel Aftonbladet he contacted the police.
"I knew immediately they were burglars because of the way they were behaving," Tom Rowell said. "It's despicable that people would steal from a holy building and a historical building."
Mr Agnevik said that the crown jewels would have been kept in locked and alarmed glass displays that the thieves would have had to break into.
No one was hurt during the burglary but church staff were shaken, local media reported.
Timeline: More major jewel heists
February 2003 - Robbers steal jewels, then worth €100m (now $117m; £89m), from the Antwerp Diamond Centre in Belgium
February 2005 - An armed gang disguised as airport workers hijack a lorry carrying €75m ($88m; £67m) of diamonds and other jewels at Amsterdam airport
December 2008 - A group of men steal over €85m ($99m; £76m) of watches and jewels in two Paris heists - one in 2007 and the other a year later
August 2009 - Armed men take jewellery worth £40m ($61m; €45m) in a raid on the Graff Diamonds shop in central London
July 2013 - An armed man takes jewels worth about €40m ($47m; £36m) from a hotel jewellery exhibition in the French Riviera resort of Cannes
April 2015 - A group of men - mostly in their 60s and 70s - drill into a safety deposit vault in London's Hatton Garden, taking £13.7m ($18m;€15.4m) in gold, cash and gems