Daisy Osakue: Turin youths held over egg attack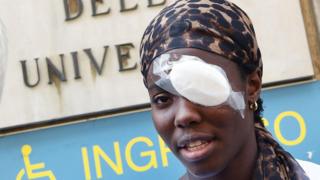 Italian police have questioned young men suspected of throwing eggs in a drive-by assault which inflicted an eye injury on discus-thrower Daisy Osakue.
Italian media report that the three - all residents of Turin - admitted the assault, which is being treated as a prank rather than a racist attack.
Ms Osakue, 22, is of Nigerian origin. She said she thought the attack was racially motivated.
She suffered damage to her cornea in the attack early on Monday in Turin.
It was similar to other recent egg-throwing assaults on women in Turin.
The youths are accused of causing personal injury and failing to provide first aid.
Despite her injury, Ms Osakue will be fit enough to compete in next week's European Athletics Championships in Berlin, Italy's Ansa news agency reports. It said the news came after she met sports doctors in Rome on Friday.
She holds Italy's under-23 discus record. The discus competition is scheduled to open on 9 August.
'Youths confess'
Italian media report that police traced the attackers' Fiat Doblo car to an address in Moncalieri, the Turin suburb where the incident took place. They reportedly found egg traces in the car.
A Moncalieri woman attacked in similar fashion a few days earlier had reported the car to police, the reports say, and they also analysed CCTV footage from cameras at the scene.
Italy's public broadcaster Rai says the car's owner and his 19-year-old son were questioned by police. The teenager reportedly admitted throwing at least seven eggs from the car, and gave the names of two friends who were with him when the attack on Ms Osakue happened.
The other two also confessed to the attack, Rai reported.
The trio's lawyer, Alessandro Marampon, was quoted as saying the youths were "frightened" by the media interest in their misdemeanour and "they planned to give themselves up, but the investigation overtook them".
He added: "Now they hope Daisy will not suffer physical or professional consequences because of their action."
Mr Marampon said the youths did not have a criminal record.
The father of one of them is reported to be a local councillor from the centre-left Democratic Party (PD).
The attack inflamed a row surrounding populist Interior Minister Matteo Salvini, who rejected claims by political opponents that Italy was facing a "racism emergency".
Ms Osakue had been training in the US for 10 months and had returned to Italy to find "a different country".
She said: "Certainly the climate of widespread violence that I see scares me."