Andrea Bocelli to perform for Pope at Dublin event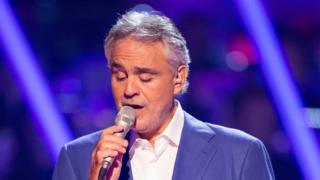 World-renowned Italian tenor Andrea Bocelli will perform at an event in Dublin to be attended by Pope Francis later this month.
The Festival of Families concert will take place at Croke Park on 25 August, during the pontiff's two-day visit.
More than 70,000 people will take part, organisers have said.
Bocelli said performing before the Pope was a "privilege for our soul; it is an honour for what the Supreme Pontiff represents in the world".
"It is a joy to be able to offer my most modest contribution on the occasion of this grand meeting and moment of reflection about the family," he added.
"The family remains the strongest building block of society, a cluster of affection and a privileged space in which one can teach and learn - in every action - how to choose a life that leads toward the greater good."
Bocelli will join other acts already announced for the event including Nathan Carter, Daniel O'Donnell, Moya Brennan, The Begley Family and The Priests.
Pope Francis will arrive in Dublin on 25 August for a two-day tour, the first Irish papal visit for almost 40 years.
As well as the Festival of Families concert, his tour includes events at Dublin's Phoenix Park and at the Knock shrine in County Mayo.
Father Timothy Bartlett, secretary general of the World Meeting of Families 2018 event, said he was delighted that Bocelli would be performing.
"He will bring so much to our gathering not just because of his wonderful talent but because of his love for his faith," he said.
"We are honoured that he has taken time out of an intensely busy schedule to come to Ireland to be part of our global celebration of family life."
Bocelli has met Pope Francis and has performed for him on more than one occasion including at the last World Meeting of Families, which took place in Philadelphia in 2015.