Ryanair pilots agree to third-party mediation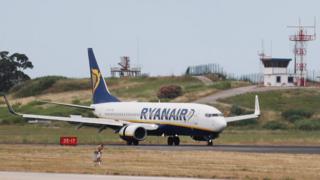 Ryanair pilots who have been staging a series of strikes have accepted the airline's proposal for mediation.
The Ireland-based pilots staged a fourth one-day strike on Friday and announced another for Friday 10 August.
They are in dispute with the airline over issues including annual leave, seniority and base transfers.
They have now agreed that a former head of the Republic of Ireland's Workplace Relations Commission should act as a third-party mediator.
In a statement, pilots' union Fórsa said it looked forward to talking to Kieran Mulvey "about when a process could begin".
However, next Friday's strike is still set to proceed - Ryanair pilots in Belgium and Sweden are also set to strike on the same day,
The airline has criticised the action as needless, saying it would disrupt another 20 flights and 3,500 customers during the peak travel period.
It said the latest action had no effect since all 3,500 customers had already been re-accommodated or refunded.