Hidden WW2 Éire sign revealed after gorse fire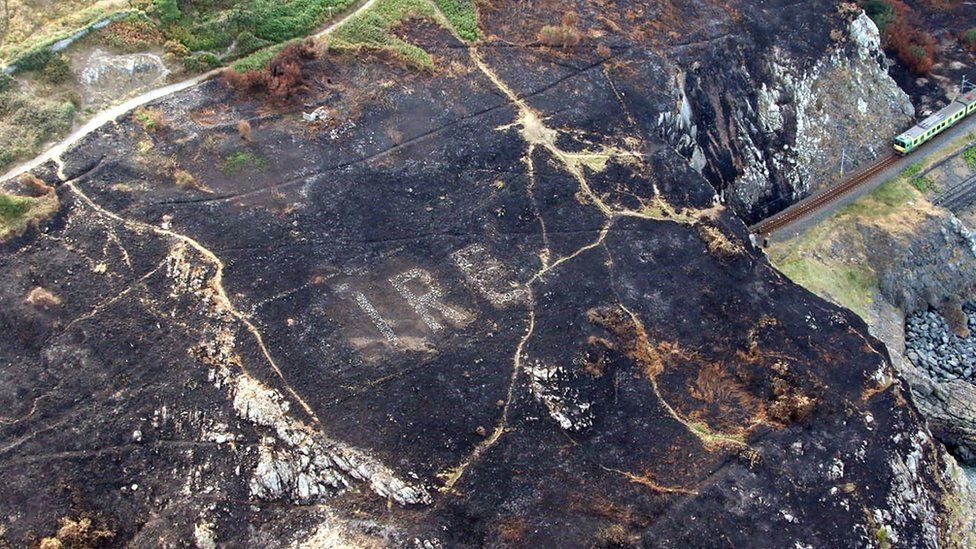 A World War Two-era landmark that had disappeared from sight has been rediscovered along the Irish coast after a wildfire scorched the ground.
The aerial sign was spotted at Bray Head, County Wicklow, by the Garda (Irish police) Air Support Unit as they flew over the area after the blaze.
The letters spell the word Éire, which means Ireland in the Irish language.
Over 80 Éire signs were dotted around the coast in WW2 to warn bombers they were flying over a neutral country.
The BBC is not responsible for the content of external sites.
The whitewashed letters were carved into headlands during the war as navigational message to both Allied and German pilots.
Many of the signs are still in plain view, and some have been restored by volunteers in recent years, including one at Malin Head, County Donegal.
However, Bray Head's Éire sign had been hidden for many years by thick undergrowth.
The landmark was revealed again just days ago when the ground was scorched by a large wildfire.
The operation to extinguish the blaze involved members of the Irish Air Corps, who help to operate the Garda helicopter.
A spokesperson told Irish broadcaster RTÉ: "The signs themselves are quite common on the west coast but unusual on the east.
"The Air Corps helped put the fire out and then the Garda helicopter, which we fly, noticed the sign emerging from the past."
The Éire signs were also assigned lookout post numbers, and the Bray sign was number eight, according to a tweet from the Defence Forces.
The BBC is not responsible for the content of external sites.
In 1939 the Irish government, led by Éamon de Valera, declared that the Republic of Ireland would remain neutral during the war.
However, in practice Ireland operated a policy often called "benevolent neutrality" towards the Allied forces, allowing British airmen to fly over the Donegal Air Corridor during the Battle of the Atlantic.
Allied pilots were also supplied with a list of lookout post numbers, meaning the nearby Éire signs became a valuable navigational aid.
The Bray Head sign is not the only significant landmark to be rediscovered from the air this summer.
Measuring up to 200m in diameter, the find is believed to be a late Neolithic or early Bronze Age enclosure.