Switzerland crash: Twenty dead in WW2 plane crash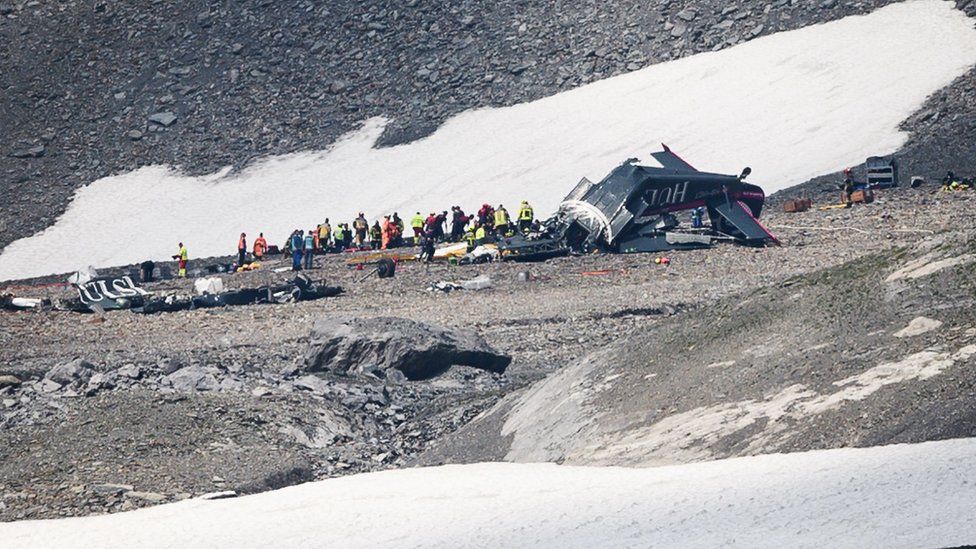 Twenty people have died after a World War Two vintage aircraft crashed into a mountainside in eastern Switzerland, police say.
The plane - a Junkers JU-52 HB-HOT - was carrying 17 passengers and three crew on a sightseeing flight when it took off on Saturday afternoon.
Operator JU-Air said it was saddened by the news and it had set up a helpline for relatives. It has suspended all flights until further notice.
The cause of the crash is not known.
The passengers were returning to Zurich from a two-day excursion in Locarno near Switzerland's southern border.
Although there were eyewitnesses to the crash, the BBC's Imogen Foulkes says that the investigation into what happened will take time.
The plane had no black box, and the remote alpine location of the crash means there was little radar monitoring.
"Based on the situation at the crash site we can say that the aircraft smashed into ground almost vertically at relatively high speed," said Daniel Knecht of the Swiss Transportation Safety Investigation Board.
"What we can rule out at this point is that there had been a collision before the crash, neither with another aircraft nor with some other obstacle such as a cable."
Of the 20 people on the flight, 11 were men and nine were women, police spokeswoman Anita Senti said at a news conference.
Police say the passengers were aged between 42 and 84 years old and that the relatives of all but one of the victims had been contacted.
The bodies of the victims, 17 from Switzerland and three from Austria - believed to be an Austrian couple and their son - are still being recovered.
The aircraft crashed about 2,540m (8,333 ft) above sea level, on the western side of a 3,000m peak called Piz Segnas.
JU-Air runs sightseeing tours on its squadron of German-made vintage aircraft from Dübendorf military airfield near Zurich.
The company's CEO Kurt Waldmeier told the AFP news agency the plane had undergone a maintenance inspection in July.
In another crash on Saturday, a family of four including two young children were killed when a small plane came down in central Switzerland.