Catholic teaching on homosexuality evil, says McAleese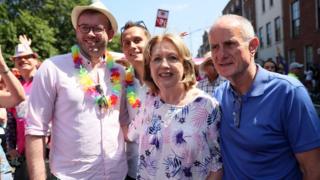 The Catholic Church's teaching on homosexuality has been described as "evil" by a former Irish president.
Mary McAleese said she was hopeful the Pope would change the church's position on the issue.
Pope Francis is due to visit the Republic of Ireland this month for the World Meeting of Families, a major event for the Church.
Mrs McAleese, who was president from 1997 to 2011, said she hoped it would be free of "homophobic messages".
The Pope's two-day tour will be the first papal visit to Ireland for almost 40 years.
'Exploded that myth'
Mrs McAleese made her comments about the Church's stance on homosexuality as she received an award for her support for the LGBT community in Ireland, Irish national broadcaster RTÉ reported.
She was the first recipient of the Vanguard Award at the Gaze LGBT film festival in Dublin.
In June she became the first former Irish president to take part in the Dublin Pride parade when she marched with her son Justin and his husband Fionan.
She told the audience at the film festival that Pope Francis's move on the death penalty last week showed that its teachings could be modified.
The Pope had "exploded that myth" that Catholic principles could not be changed when he declared that capital punishment was inadmissible in all circumstances, she added.
She said she was hopeful the Church's "evil" teachings on homosexuality would also be changed.
'Empire of misogyny'
This is not the first time she has criticised the Catholic Church, which she described as "an empire of misogyny" in March.
Speaking in Rome at a meeting of Catholic women, she said a hierarchy that is "homophobic and anti-abortion is not the Church of the future".
Pope Francis declined to attend the meeting or celebrate mass for those who did attend.
Mrs McAleese said she wrote to him afterwards but did not receive a reply.
She said it was regrettable and bad manners that he did not write back.