South Ossetia: Russia pushes roots deeper into Georgian land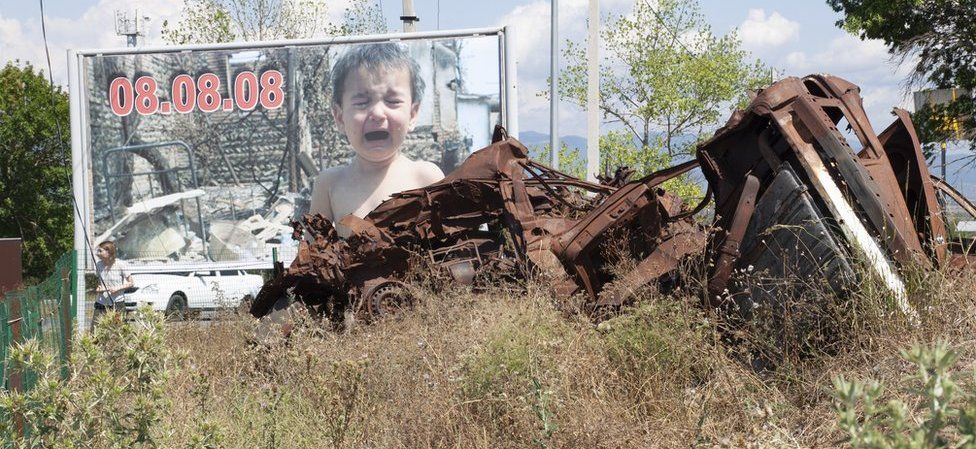 Tempers fray as cars queue at military checkpoints on the border between Russia and South Ossetia - part of Georgia that Russian troops seized 10 years ago.
It is internationally recognised as part of Georgia, but most people here have Russian passports and draw Russian pensions. For them, the border formalities are frustrating and time-consuming bureaucracy.
In August 2008, Georgia attempted to recapture South Ossetia, which had fought a separatist war against Georgia in the 1990s.
Russia poured troops in, ousting Georgian forces from South Ossetia and breakaway Abkhazia, and now Moscow recognises both as "independent" states.
Today Russia not only has troops based in South Ossetia and Abkhazia; it has also annexed Crimea, supported separatist fighters in eastern Ukraine and deployed troops to Syria.
It's an hour's drive from the border to South Ossetia's capital Tskhinvali - there is no regular bus service or railway line.
Russian military vehicles are a common sight, driving between the various Russian military bases here. But there is little sign of life in the empty villages along the way.
On an empty hillside the words "Thank You Russia" are picked out in white stones.
There are just over 50,000 people in South Ossetia, and most live in Tskhinvali - a run-down, crumbling town, still bearing the scars of the war.
Almost all the new buildings in centre have plaques saying: "Built with the financial support of the Russian Federation."
Many local people see Russia as their saviour from a terrifying experience. "It felt like the sky was falling in. It was like the apocalypse," says Tamerlan Tadtaev.
"It was the first time I saw Grad missiles in action. I'm grateful to Russia for intervening. If they hadn't done that, I wouldn't be speaking to you here now."
Nearly 1,000 people were killed in the August war, while tens of thousands of Georgians living in the disputed territories were forced to flee their homes.
The International Criminal Court is continuing to investigate allegations of human rights abuses by all sides involved in the fighting.
On the road leading towards the boundary with Georgia we drive through abandoned, burnt-out villages - a reminder of what Georgia calls the "ethnic cleansing" of South Ossetia's Georgian population.
We pass a bleak billboard showing a crying child with the date 08.08.08 - the day Georgian troops entered the region. It marks the spot where a convoy of civilians was hit by a Georgian artillery strike, leaving many dead.
For the remaining Georgian civilians still living in the area along the boundary line life is difficult.
There have been disputes over Russian soldiers arbitrarily moving boundary fences, cutting villagers off from their homes and fields. Georgia has accused Russia of abductions.
"It's a wound that reopens every 8th August," says Lt Col Giga Dzhincharadze, who saw action in South Ossetia 10 years ago and lost many comrades.
He would love to revisit South Ossetia and pay his respects, but what was once a feasible, if not easy, journey is now impossible for Georgians.
Many see the Russian-Georgian war as the start of a militarily emboldened Russia. In Georgia, some analysts say the West was slow to realise President Vladimir Putin's ambitions.
"In 2008, for Berlin and Paris, just like for many in Washington, Putin was still a good guy with whom you could and should do business," says Gela Vasadze, a Georgian political commentator.
"Nobody wanted to quarrel with Russia because of a small and unknown Georgia. The aspiration of Georgia to break away from Russia's imperial influence was regarded with sympathy at best, but no more than that."
Vasadze also points to Dmitry Medvedev's election as president in March 2008, which led many in Russia and abroad to hope Moscow was embarking on a new path to democracy.
In the end, he only served one term before handing power back to Vladimir Putin, who has pursued a more aggressive foreign policy as president.
Not everyone agrees that the West miscalculated. "There were no black and white sides to this conflict," says Maxim Yusin, an international affairs commentator at Russia's Kommersant daily.
"There were no obvious imperial aggressors and their victims; the West was therefore able to mediate."
Ten years on, a more polarised relationship between Russia and the West has made it much more difficult to mediate an end to fighting in eastern Ukraine.
"In February 2014, Moscow felt that the West definitely stood on one side and did not intend to listen to us at all," says Yusin. "And it had dire consequences."
Back in the South Caucasus, Arslan Ustarkhanov recalls his role in the war. After the conflict, the Russian special forces officer went to fight in many other "hot spots".
"I left the army after Ukraine," he says. "For the past four to five years I've been trying to find a role for myself in civilian life, but it's very hard. I haven't found anything yet."
In Tskhinvali there is relief that the past decade has been largely peaceful, but there is also widespread frustration at the lack of economic progress.
Russia has invested 50bn roubles ($800m; £608m) in South Ossetia over the decade. Russia provides the electricity, gas, medical equipment and mobile phone network.
The local budget is heavily reliant on funding from Russia, there are few job opportunities and South Ossetia is struggling to get back on its feet.
Additional reporting from Georgia and London by Olga Ivshina and Yuri Vendik, BBC Russian.
Update 23 August: This article has been amended to reflect the international investigation as well as allegations of Russian abductions along the boundary line.