Irish World War One trench to be excavated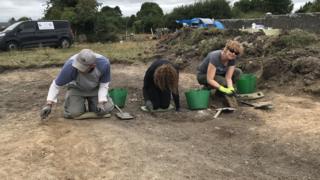 A training trench from World War One is to be the first of its kind excavated in the Republic of Ireland.
The site of the former Birr Barracks in Crinkill, County Offaly, has been examined by volunteers.
It housed personnel from the Leinster Regiment, who spent time there shortly after war broke out in 1914 in preparation for combat in Gallipoli, and other troops also trained there.
The buildings were destroyed during the Irish Civil War in 1922.
The dig was organised by the Irish Archaeological Field School as part of community outreach efforts.
Fresh insight
Archaeologists are excited by the upcoming excavation and historian and student Stephen Callaghan is adamant it will be hugely beneficial to their research.
He said: "We are hoping that this dig will give us an insight as to how training trenches in Ireland were used to help train Kitchener's New Army for World War One.
"With this dig we are hoping to find anything that will give us an insight as to who made the trenches, when might they date from, and how they were used.
"So an example of that might be, if we are getting shell cases in the bottom of them it might be an indication that they are doing live fire or even just using blanks and practising musketry in them to basically get ready for life on the Western Front."
Regiment history
About 210,000 Irishmen fought on the side of Britain during the war.
The Leinster Regiment trained seven battalions and lost 1,980 men throughout the course of the war. It was awarded 32 battle honours and four Victoria Crosses.
The battalions were dissolved in 1922 after 26 counties of Ireland gained independence from the United Kingdom as the Irish Free State - the modern day Republic of Ireland.
Brian Kennedy, from the Birr Historical Society, said 100 men from the town of Birr lost their lives during the war, while 6,000 enlisted at the former barracks.
He said: "To be able to see where they trained before they went out into the battlefields of Flanders and Normandy and so on is absolutely huge for us.
"To be able to actually see them and the dimensions of the trenches and how deep they went down is huge. To see that they still exist 100 years on, that is huge from our point of view as historians."