'Treasure hunt' wedding rings reunited with owner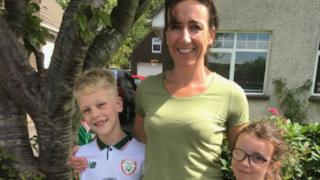 Splashing about in the water and digging in the sand for buried treasure is standard summer fun at the seaside, but it was more than playing pretend for eight-year-old Oliver O'Neill.
He found real 'buried treasure' on Culdaff beach in County Donegal on August 5- a wedding ring and an engagement ring stuck in the wet sand.
After a Facebook appeal which was shared more than 13,000 times the rings were reunited with their owner, Aileen Fitzgerald from Dundalk, County Louth.
"I was playing on the rocks and I put the rings on my fingers, then I told my mummy and daddy," said Oliver, who is from Londonderry.
Oliver's mum Victoria said she initially assumed the 'treasure' would be "worthless junk" before she had a proper look and realised they were gold rings.
Speaking to BBC News NI, Victoria said: "I realised they were very valuable and important to somebody.
"I lost one stone out of my engagement ring at one time and I was devastated so I knew the person who had lost these rings would be the same.
"We stayed at the beach quite late hoping the person would come back but no one did."
Oliver's dad Ciaran decided to put an appeal on Facebook looking for the owner of the rings.
Huge response
The post had been shared thousands of times overnight and many people got in contact with the family about their lost wedding rings.
"We had loads and loads of replies, people who had lost rings from years ago thinking it might have been theirs," Victoria said.
Aileen Fitzgerald from Dundalk rang the Garda (Irish police) station in Carndonagh, County Donegal, to enquire about her lost rings when one of the officers alerted her to the Facebook post.
"The [internet] coverage wouldn't be the best out here in Culdaff so we hadn't even seen the Facebook post," she said.
"A Garda in Carndonagh told us about the Facebook post and she put us in contact with Ciaran and his family."
'Out in a dressing gown with a torch'
She was in a playground near the beach when her daughter asked her to play on the monkey bars, so she took off her rings and put them in the pocket of her skirt.
"We went swimming later on down at Culdaff beach so I took off the skirt and the rings must have fallen out."
She realised the rings were missing later on and she retraced her steps in the dark with a torch.
"I went out in the dark in my dressing gown with a torch. I went back to the playground then walked to the beach but I couldn't find them.
"I was in an awful state. I had to go have a quiet cry away from the kids and I couldn't sleep at all that night."
The family went back to the beach the next morning with a rake from the garden shed to rake through the sand looking for the rings.
"The people around here are so nice, we had faith the rings would be found," Ms Fitzgerald said.
Reward
Ms Fitzgerald drove into Derry to collect the rings from the O'Neill family at their home.
She was so relived to be reunited with her wedding rings that she offered Oliver a finder's reward of €50.
"It was lovely, he was so delighted," she said.
"I won't be taking the rings off again. I am a paramedic so I usually take them off for work but I will just be putting tape on the rings and putting gloves over them from now on."