Turkey's lira crisis explained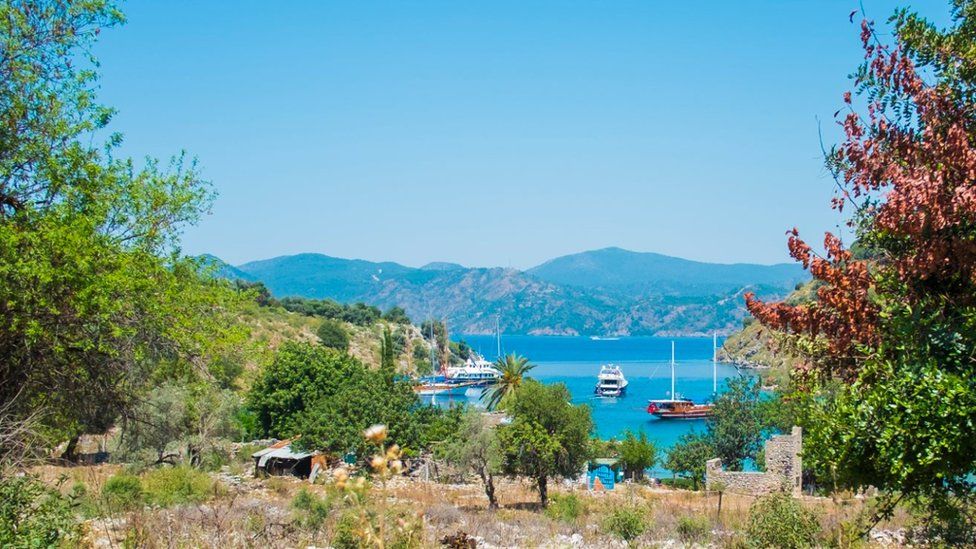 Turkey's currency, the lira, has hit record lows, creating a headache for the country's president and pushing up prices on everyday items.
But there is one area reaping the benefits: tourism. Bookings to Turkey have gone up in recent months - although the exact cause is, of course, hard to say.
A favourable exchange rate though can't have harmed the situation: on Friday, the US dollar would buy almost six Turkish lira; at the end of January, it would have got you less than four.
So what has happened to send the lira on a downward spiral and should more tourists take advantage?
The value of Turkey's currency has nosedived since January and has lost more than 34% of its value against the dollar.
It hit a record low on Thursday evening, reaching 6.30 to the dollar, although it has since recovered slightly.
The stock market has also fallen 17%, while government borrowing costs have risen to 18% a year, according to Andrew Walker, the BBC World Service economics correspondent.
Meanwhile, inflation in Turkey has hit 15%.
What caused this nosedive?
A combination of factors, according to experts, have led to fears the country is sliding into an economic crisis.
For a start, investors are worried that Turkish companies that borrowed heavily to profit from a construction boom may struggle to repay loans in dollars and euros, as the weakened lira means there is now more to pay back.
Nafez Zouk, an economist at Oxford Economics, told the BBC's Today programme earlier this week that these problems were further compounded by a "political set-up which is unconducive to proper economic management".
Indeed, much of the recent concern has been fuelled by President Recep Tayyip Erdogan's economic policy.
In many nations, including the US and EU states, the central bank is independent of government and no one can tell it what to do with interest rates. This means it can keep control of inflation by raising them when necessary.
But in Turkey, Mr Erdogan has made sure he controls the reins. Early last month, he claimed the exclusive power to appoint the bankers that set interest rates - and to cement his control he has put his son-in-law in charge of economic policy.
And if he is flustered by the current situation, he isn't showing it. On Thursday, he urged supporters not to worry, saying that while overseas investors had dollars, Turks had Allah.
If the right policies were applied.
But while Mr Erdogan - who vowed Turkey would win the "economic war" - favours lowering borrowing costs to fuel credit growth and economic expansion, others would rather see interest rates rise.
But Mr Erdogan is famously averse to interest rate rises, and there are fears he may be pressuring the central bank not to act.
Meanwhile, ING economist Carsten Brzeski told news agency Reuters "some kind of... involvement" by the International Monetary Fund (IMF) was "getting closer".
So, is now the time to go to Turkey?
Well, if you want azure seas, ancient temples and a holiday which most likely costs less than it did last year, then yes.
Eagle-eyed Brits have already figured this out, it seems, with travel agents reporting a rise in bookings.
However, the UK Foreign Office still recommends against all but essential travel to a number of regions, mainly along the border with Syria, and says not to travel within 10km (six miles) of the border at all, due to the ongoing Syrian war.
The US, meanwhile, rates Turkey at level three, urging people to reconsider travel to the region.