Romania protests: Thousands hold fresh rallies after clashes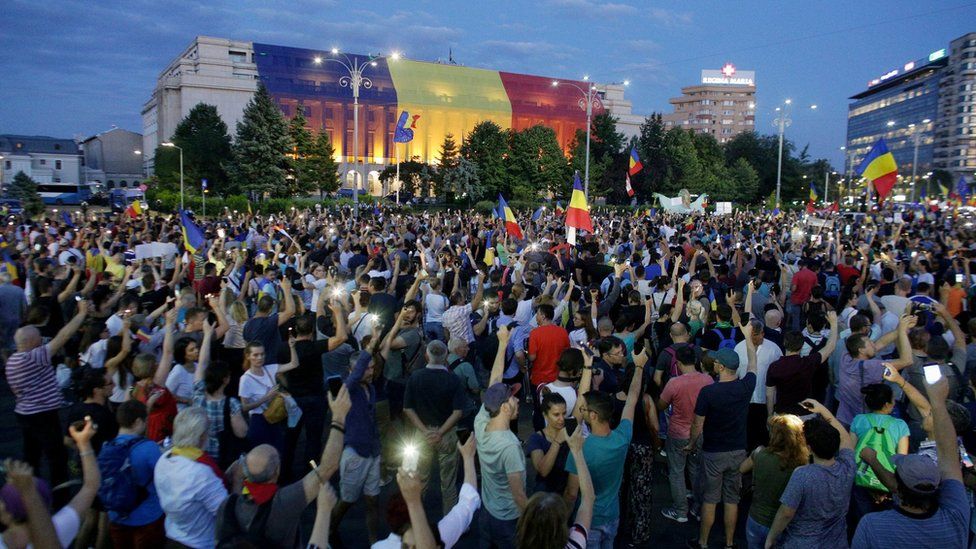 Thousands of Romanians are again taking part in an anti-government rally in the capital Bucharest, a day after clashes left more than 400 people injured.
So far the protest near the government offices has been noisy but peaceful.
Similar demonstrations are also reported in other cities including Cluj, Sibiu, Timisoara and Iasi.
On Friday, more than 50,000 people took to the streets against what they described as entrenched corruption and low wages.
Many of the demonstrators are Romanian expats who have returned from across Europe to voice their anger at the government.
Several police officers were hurt on Friday as some protesters threw bottles and police used tear gas and water cannon.
President Klaus Iohannis said the police reaction was "disproportionate".
"I firmly condemn riot police's brutal intervention, strongly disproportionate to the actions of the majority of people," he said.
What happened in Bucharest on Friday?
The demonstration was staged in front of the government headquarters in the city centre.
The protesters were demanding the resignation of the government, objecting to the perceived efforts to weaken the judiciary by the governing Social Democrats (PSD).
The violence began when some in the crowd tried to break into the government building - but were held back by the police security cordon.
Other protesters were seen throwing paving slabs at the police, who responded with tear gas, pepper spray and water cannon.
Police said they had acted in a proportionate way, responding to the violent behaviour of hooligans in the crowd.
Ileana Anghel travelled all the way from her home in Spain with her husband to take part in the demonstration.
"We want to see modern roads and schools and above all to not have to pay bribes to the left and right," she told AFP.
Vlad, 60, flew back to Romania from New York, his home of 30 years.
"Corruption and embezzlement, which profit the ruling class, are what bothers me," Vlad told the same news agency.
According to the World Bank, up to a quarter of the Romanian population - between three and five million people - live and work abroad, sending back around $5bn (£3.9bn) to one of the EU's least developed countries.
What's the background to this crisis?
Protests have been building against the PSD for months.
In July, President Iohannis approved the dismissal of anti-corruption prosecutor Laura Codruta Kovesi, who had been leading corruption investigations into local and national politicians.
Mr Iohannis had been under extensive pressure from the PSD government to agree to her removal.