Dublin priest steps aside following historical complaint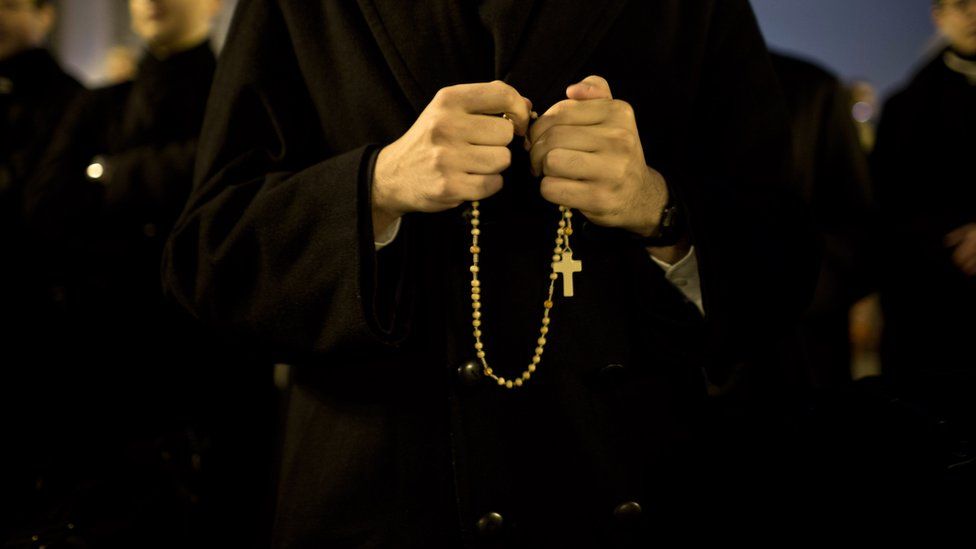 A parish priest in Dublin has voluntarily stood down while historical allegations are investigated.
Parishioners celebrating Mass in the south Dublin parish on Sunday were informed the priest had stepped aside.
Pope Francis is due to visit Dublin this month for the World Meeting of Families, a major event for the Church.
The complaint, which the Dublin Archdiocese said related "to several decades ago", is under investigation by Church and state authorities.
The archdiocese emphasised that the allegations are not connected to the priest's current parish and that the cleric's decision to stand aside "does not imply the truth or falsehood or what is being investigated".
A spokesperson for the Archdiocese of Dublin said: "In line with church policy on safeguarding children, a parish priest of Dublin has voluntarily stood aside from his position because of concerns brought to the Diocese and reported to the Gardai.
"The information received relates to several decades ago and is not connected to the parish.
"Standing aside does not imply the truth or falsehood of what is being investigated. It allows an appropriate investigation by relevant church and state authorities to take place.
"As the matter remains the subject of investigation by state and church authorities, the Archdiocese will not be confirming the identity of the priest or the parish where he served," added the spokesperson.
The spokesperson said that anyone with concerns or information about the safety of children should contact the Diocesan Child Safeguarding and Protection Service.
Diarmuid Martin, the Archbishop of Dublin, said last year that there had been a "welcome decline in the number of child abuse allegations" reported to the diocese's safeguarding service.
"However a decline does not mean that such allegations have ceased, only that there are fewer of them.
"There are no grounds for complacency. It is important that we remain committed to this vital work," he added.