Italy bridge collapse: Genoa death toll rises to 43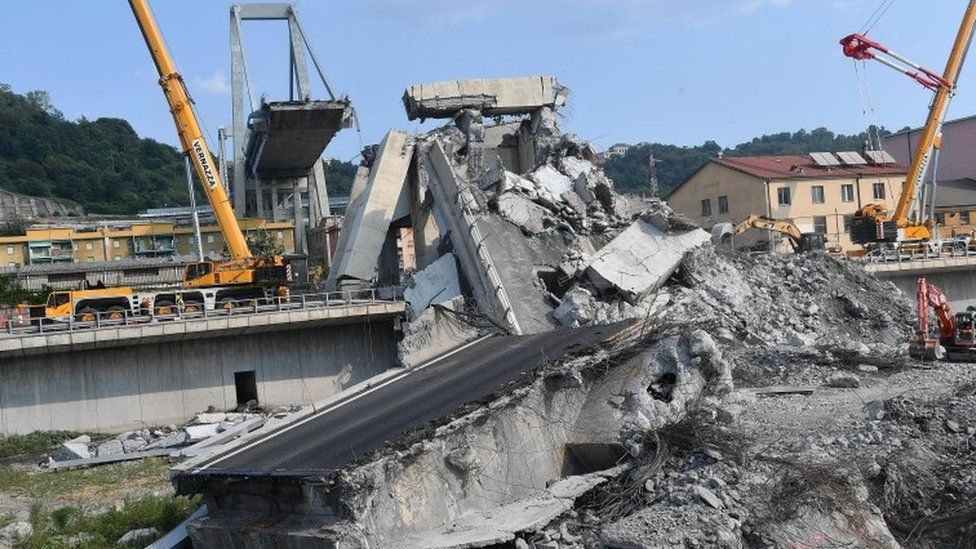 Rescue workers in Italy have found the bodies of three more people in the wreckage of Genoa's collapsed motorway bridge, bringing the death toll to 43.
Three members of the same family were recovered from a crushed car on Sunday. They were the last people reported missing from Tuesday's tragedy.
A 200m (656ft) section of the Morandi bridge suddenly fell 45m, along with dozens of vehicles in busy traffic.
The collapse has led to a fierce debate about Italy's infrastructure.
The company that operated the bridge has set up a fund for victims' families. The government has set up a commission to examine the causes of the disaster.
On Saturday Italian President Sergio Mattarella and PM Giuseppe Conte led a state funeral for 18 of the victims in Genoa.
What are relatives saying?
Some families stayed away from the ceremony, opting for private funerals, with some expressing anger at the government.
One grieving mother told Italian media she held the state responsible, adding "the parade of politicians has been shameful".
Another told Italian newspaper Il Messaggero: "We do not want farcical ceremonies.
"Our children are not a tool for public parades... it is among those who loved them that they will receive a farewell."
Other families said they simply preferred to grieve in private.
Giovanni Castelluci, the boss of operating company Autostrade per l'Italia, said millions of euros for victims' families would be available from Monday.
He also said the firm would provide funding to help relocate hundreds of people who had to be moved out of their homes after the bridge collapsed.
He said that reports carried out ahead of the disaster had described the bridge as being in good condition, but a full inquiry was "the first priority".
Shares in Autostrade's parent company Atlantia plummeted in the aftermath of the disaster.
The BBC's James Reynolds in Genoa says Italy's populist government is also keen to show it is taking action.
Mr Conte confirmed on Friday that legal proceedings were under way to strip Autostrade of its contracts.
Mr Conte has said that in future the government would compel companies that were granted concessions for Italy's infrastructure to invest more profits in maintenance and safety.
What happened to the Morandi bridge?
The bridge is a main road in and out of Genoa, linking it to the A10 motorway and the road to France.
Shortly before noon on Tuesday, the section collapsed amid extremely heavy rainfall.
The cause is still unclear. The bridge was having work done to shore up its foundations at the time.