Ten hikers killed in flash flooding in southern Italy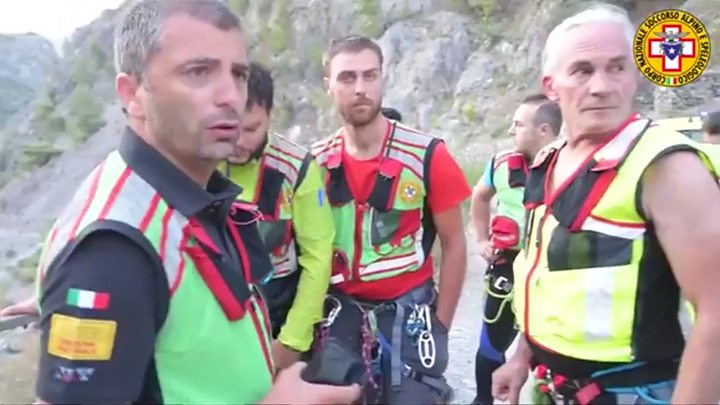 At least 10 hikers were killed and others have been rescued after flash flooding in southern Italy.
They were walking in a gorge in a national park in the Calabria region when they were hit by a torrent swollen by heavy rain.
Officials say 23 people have been rescued. An eight-year-old girl was airlifted to hospital with hypothermia.
Italy's environment minister said he was "99.9% sure" no more people were missing.
Three hikers in their early twenties were found safe, Italian media report.
An earlier death toll was revised down from 11, due to confusion caused by "overlapping reports", according to officials.
Carlo Tansi, head of civil protection, told reporters that when the hikers were hit by the water they were "catapulted out like bullets" and were washed down the valley for about 3km (two miles).
"The Raganello Gorge is narrow and tall, it can get up to 1km (3,200ft) high," he said. "The gorge filled up with water in a really short time."
The nationalities of the hikers were not immediately known, although the Corriere della Sera newspaper said one of the injured was Dutch and had suffered a broken pelvis.