Spain's 'wolf pack' sex attackers confronted at Seville pool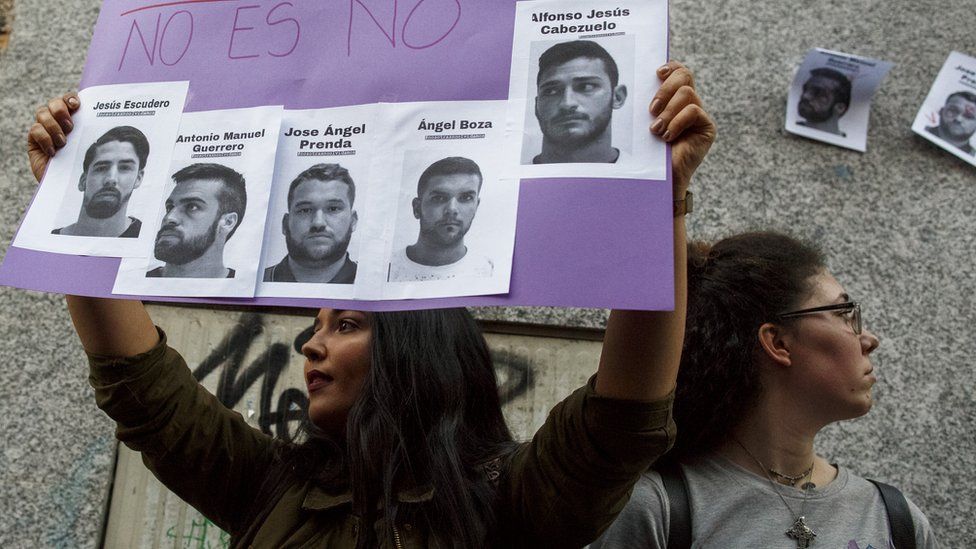 Members of the infamous "wolf pack" group convicted of sexual abuse in Spain have been forced to flee a swimming pool in Seville.
The men were present in a group with others when they were angrily confronted by swimmers.
The case involved five men sexually abusing an 18-year-old woman at the San Fermin festival in Pamplona in 2016.
It became a national scandal in Spain - and the men were released a few months into their nine-year sentence.
Their lawyers requested that the five be provisionally released pending the outcome of an appeal.
The men are originally from Seville, where at least two were recognised by other bathers at the public pool in Palomares del Río on Saturday.
Spanish newspaper El País said they had been attending a birthday celebration.
Angry members of the public shouted at the men, forcing them to move to another part of the sports centre and stay there until it closed, Spanish media reported.
Local mayor Juana Caballero issued a statement on Monday, saying: "We will not allow Palomares del Río to become a refuge for rapists or criminals".
She said the local government would not permit anyone declared "persona non grata" to use public spaces and cause concern.
The men are nicknamed after their Whatsapp group - titled La manada (the wolf pack) - in which they bragged about their actions and of the video recordings taken during the attack.
They were acquitted of rape, which under Spanish law requires violence or intimidation to be used. Police said the victim was "passive or neutral", keeping her eyes closed during the attack.
All five men were sentenced for sexual abuse rather than the more serious crime of rape.
The shocking nature of the incident and the perceived light punishment led to an outcry and widespread protests.