Turkey police fire tear gas at mothers' protest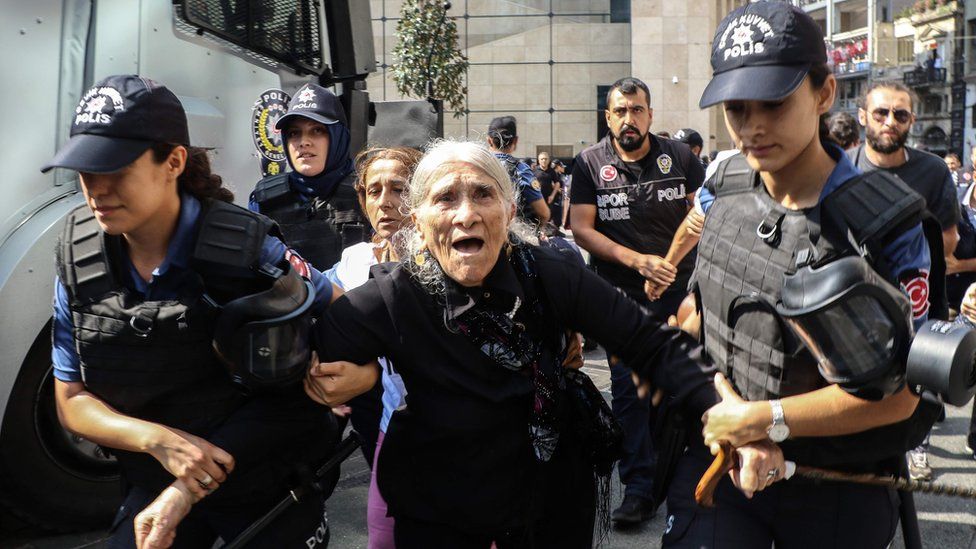 Police in the Turkish city of Istanbul have forcefully broken up a regular protest by mothers remembering relatives who disappeared during violence in the 1990s.
Officers used water cannon and tear gas and detained about 50 people, including veteran protester Emine Ocak, said to be in her 80s.
The group, called the Saturday Mothers, have met in central Istanbul since 1995 and this was to be their 700th protest.
Rights groups condemned the crackdown.
It was "shameful, cruel treatment of families seeking justice for state crimes", said Emma Sinclair-Webb from Human Rights Watch.
The sit-in was banned by the authorities because it had been publicised on social media accounts linked to the Kurdistan Workers' Party (PKK), a local government statement said.
#SaturdayMothers, aka Turkey's Mothers of Plaza De Mayo, were to stage a vigil for 700. week since they started demanding justice for their loved ones, victims of forced disappearances back in 90s. The vigil was banned, police intervened w/ teargas,many were detained#BeniBulAnne pic.twitter.com/DuGTBP6O4h

— Selin Girit (@selingirit) August 25, 2018
The PKK launched an armed struggle against the Turkish government in 1984, calling for an independent Kurdish state within Turkey. Tens of thousands of people have been killed since it began. The Turkish government considers the PKK a terrorist group.
All of those detained - including Ms Ocak, whose son Hasan disappeared after being detained in 1995 - were released after giving statements to the police, Turkish lawyer Efkan Bolac said.
The disappearances that are the subject of the protests took place during the height of the PKK insurgency.
Activists say the Turkish state has never investigated what happened to those who disappeared after being detained.
The Saturday Mothers' sit-ins are said to have taken inspiration from the Plaza de Mayo, a group of Argentine mothers who demonstrated after their children disappeared during Argentina's military dictatorship.
Police prevented them from holding their sit-ins for a decade between 1999 and 2009 but this is the first time in recent years that police have intervened.
Social media users have been sharing a photograph from 1997 which also showed Ms Ocak being detained.