Papal Visit: Pope 'moved and shocked' by abuse survivors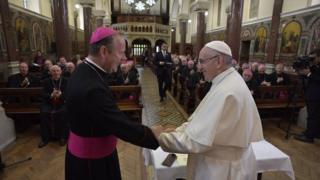 The head of the Catholic Church in Ireland has said that Pope Francis was "moved and shocked" by his meetings with survivors of abuse.
On Saturday, in Dublin, the Pope spent 90 minutes with eight survivors, telling them he viewed clerical sex abuse as "filth".
Archbishop Eamon Martin said the encounters led the pontiff to write a "personal, handwritten" prayer.
One of the survivors who met the Pope said he "exceeded our expectations".
Pope Francis made a two-day trip to Ireland over the weekend.
A prayer was read at Mass celebrated by the Pope on Sunday, in which he begged for forgiveness for a number of abuses perpetrated by Church leaders.
Speaking on BBC Radio Ulster's Good Morning Ulster programme, Archbishop Martin said: "I think that the Pope to me seemed very personally moved, and shocked really, at all of the encounters that he had when he was in Ireland.
"He had been aware very much, as we all were, of the commentary in the international media.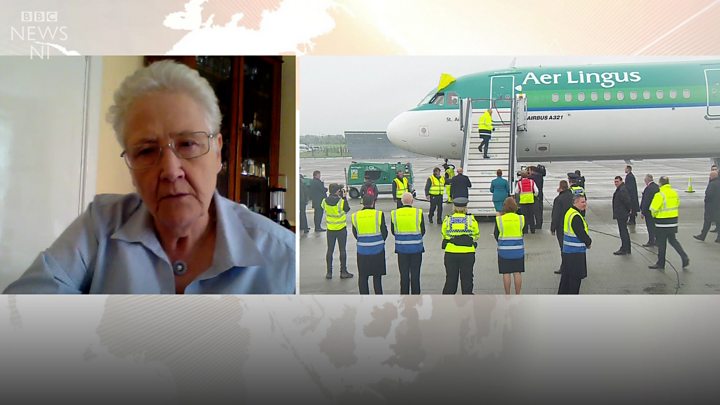 "But there is something different between hearing commentary in the media and actually meeting survivors face-to-face which he did on Saturday. That moved him to write a personal, handwritten, penitential prayer."
The archbishop said that the abuse scandals had led to the creation of "very clear protocols" around reporting safeguarding concerns, but acknowledged that "there is no doubt that victims feel that they can't trust the church".
Church v State
In a speech welcoming Pope Francis to Ireland on Saturday, Taoiseach Leo Varadkar said the time had come for a "more mature relationship" between the Catholic Church and Irish state.
Archbishop Martin said he found Mr Varadkar's comments "challenging, but also very balanced and measured".
"This idea of having a mature, modern relationship between church and state in a plural society is something that I too have called for," he said.
"It would equally be wrong to obliterate the role of the church. We are not irrelevant in society, but neither should we be dominant."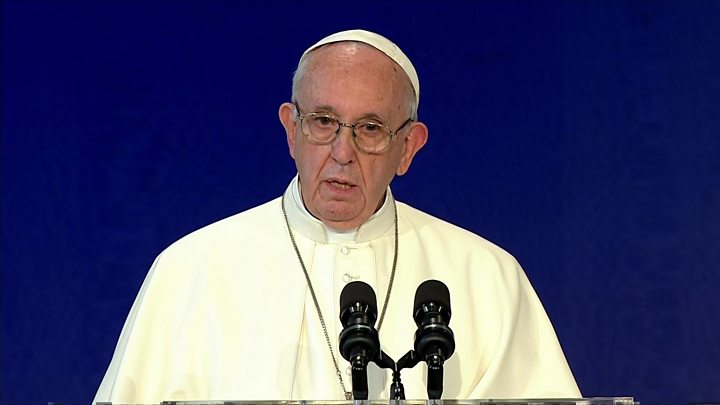 Protests against visit
Mr Varadkar delivered a strong warning to the Pope to take action against clergy involved in child abuse and in keeping it secret.
Paul Redmond, who was born in a mother and baby home, said the Pope "seemed to be completely in the dark" about Irish institutions, including the Magdalene Laundries.
"One of the other survivors was speaking to him about industrial schools and mentioned the Magdalene Laundries and the Pope came back and said: 'What's a Magdalene Laundry?' and seemed to have no idea what they were," Mr Redford told BBC News NI.
"I jumped in and gave him a three or four-minute crash course."
He added: "We were hoping that he would announce at Mass that he would counter the lies told by the nuns in the mother and baby homes to mothers that if they ever searched for their children, they would be committing a mortal sin and burn in hell.
"In fairness, he did go out and do that so we were pleasantly surprised - he exceeded our real expectations of what we'd get."
On Sunday, the Pope told the crowds at Knock that the "open wound of abuses" committed by the Roman Catholic Church challenged it to be firm in the pursuit of truth and justice.
Over the course of the weekend, a number of protests were held in response to the visit.
In Tuam, County Galway, about 1,000 people gathered for a silent vigil to remember the Tuam babies on Sunday.
The Tuam mother and baby home was one of 10 institutions which 35,000 unmarried pregnant women are thought to have been sent to.
Meanwhile, large crowds also attended a Stand4Truth event in Dublin to show solidarity with victims of clerical sex abuse.
It was the first papal visit to the country since Pope John Paul II's arrival in 1979.
The Pope's visit to Ireland coincided with the World Meeting of Families, a global Catholic gathering that is held every three years.