Brest frisky dolphin sparks French swimming ban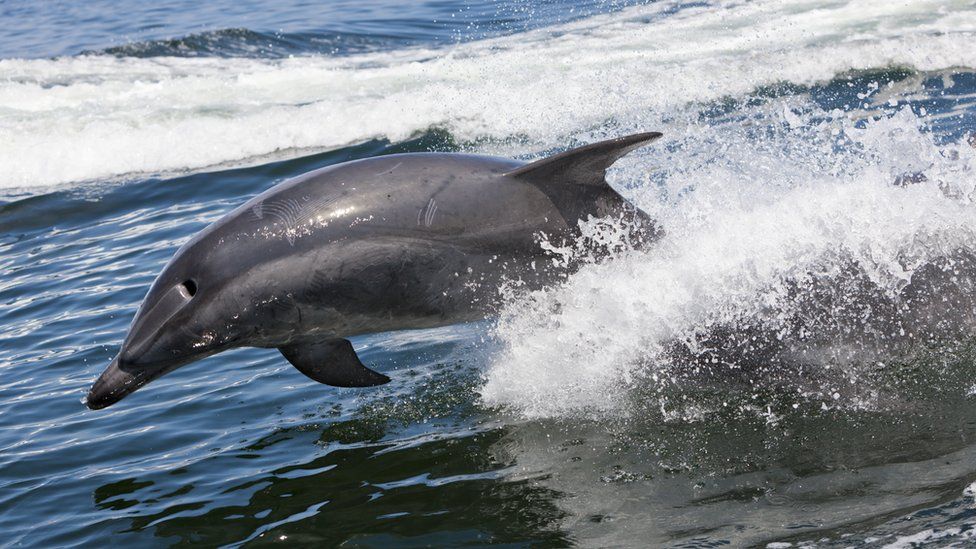 A mayor on the north-west coast of France has ordered a halt to swimming and diving on local beaches because of potential risks from a rutting bottlenose dolphin.
For weeks the dolphin, nicknamed Zafar, has been entertaining children near the Breton city of Brest and swimming with bathers and kayakers.
But officials are worried the dolphin is seeking close contact with swimmers.
Mayor Roger Lars said a number of bathers had been scared.
"I issued this ban to protect people's security," said the mayor of Landévennec.
The 3m (10ft) dolphin had initially delighted locals, swimming with water sports enthusiasts in Brest harbour, but it had since moved south to his village of 300 people.
According to Le Telegramme website, the dolphin had not been aggressive but had rubbed up against boats and swimmers alike, even in shallow waters.
Last month a swimmer had to be rescued by a boat when the dolphin stopped her returning to the shore, it reported.
A kayaker said the dolphin had leapt over his head and a Spanish holidaymaker had complained after being "confronted by the dolphin, which was anxious to interact".
The last straw appeared to come last week when the dolphin tossed a young woman bather in the air with its nose.
The mayor said swimming and diving would be banned wherever the dolphin's presence was confirmed, as well as approaching within 50m of the animal.
A specialist at a Brest aquarium said there was a risk that the dolphin could cause unintentional harm with its tail fin.
However, Breton lawyer Erwan Le Cornec denounced the restrictions as over the top. "How many accidents have there been with a dolphin in Finistère since our two species existed? None," he complained.