Pope Francis' Skoda donated to homeless charity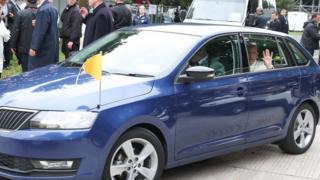 The car used to transport Pope Francis during his two-day visit to Ireland will be donated to a homeless charity.
The blue Skoda Rapid will be given to Crosscare, the social care agency of the Catholic church in Dublin.
The charity helps families who are living in emergency accommodation to find long-term places to live.
The Archdiocese of Dublin said in a statement on Monday that the car will be used by Crosscare staff to help transport families to new homes.
'Delighted'
The Archdiocese added that the vehicle will be in "daily use", however, the registration plate of 'SCV 1' will be changed as it means Stato della Citta del Vaticano - "Vatican City".
Conor Hickey, director of services at Crosscare, said the charity was delighted with the gift.
He added that he "hoped that families who were struggling in this way would find this gesture from the Pope of some comfort in that they were constantly remembered by him".
Speaking at the World Meeting of Families last week, Mr Hickey said the homeless crisis in the city had reached huge proportions and was now at a level that was unheard of three years ago.