Vanesa Campos: Five charged with murdering Paris transgender prostitute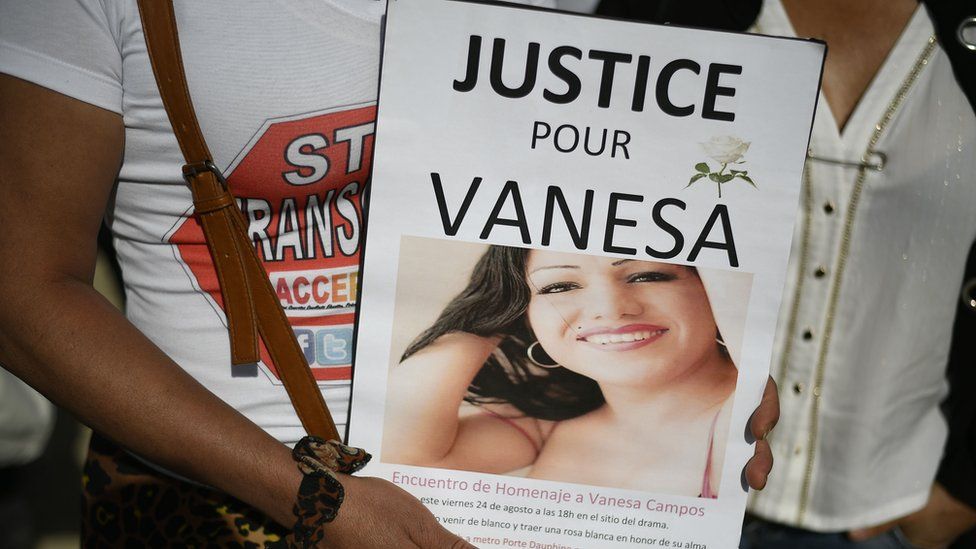 Five people have been charged in the French capital Paris with murdering a Peruvian transgender prostitute who reportedly tried to defend her client when robbers attacked his car.
Vanesa Campos, 36, was shot dead on the night of 16-17 August in the Bois de Boulogne, a city park long known as a pick-up area for prostitutes.
Her brutal murder sparked anger among sex workers and LGBT activists.
Hundreds marched on Friday to demand greater protection for prostitutes.
Campaigners demanded the repeal of a 2016 law which criminalised the purchase of sex in France, saying it forced prostitutes to work in more isolated locations to avoid police.
Campos, who had worked illegally in France for two years, was attacked by about 10 men armed with knives, sticks and a handgun after she tried to stop them robbing her client's car, a police source told Le Parisien newspaper.
The friends said they ran to the scene and one of them tried to approach her, before having to retreat when more shots were fired.
Campos was killed by a bullet to the chest. It was not known if the client was also hurt in the incident.
Eight people were arrested last week and five have now been charged with murder and robbery, AFP news agency reports.
What do campaigners want?
The protesters who turned out on Friday carried placards demanding "Justice for Vanesa" but also accusing the French state of "complicity" in the murder of a transgender woman by driving prostitutes to take greater risks with their safety.
"The law is 100% responsible for Vanesa's death," campaigner Giovanna Rincon told AFP.
Around 10 prostitutes have been murdered in the Bois de Boulogne in recent years, Le Parisien reports.
Supporters of the 2016 law argued it increases safety by improving police protection for sex workers and helping foreign prostitutes to get temporary residence permits in France if they agreed to seek jobs outside prostitution.