Paris harassment: Man held for CCTV street attack on woman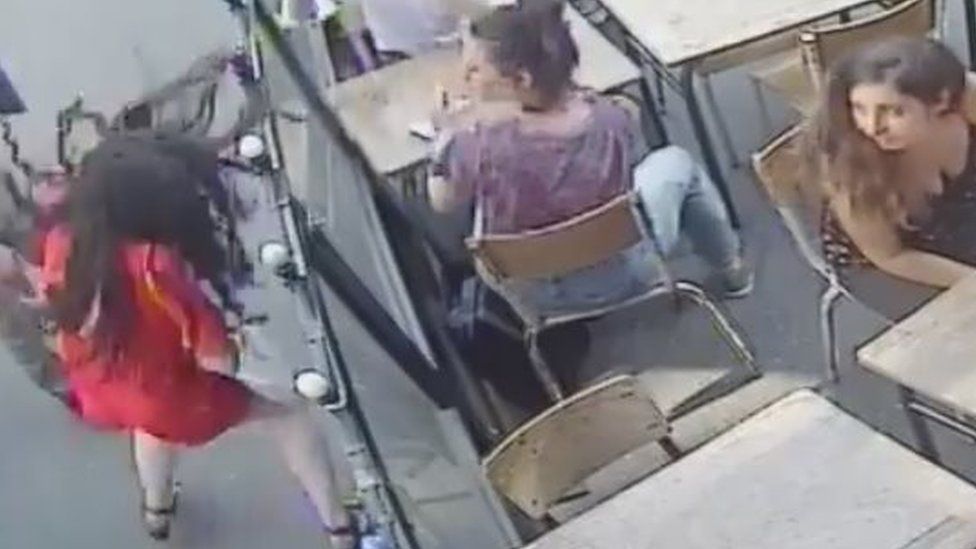 A month after a video went viral of a woman being publicly attacked in a Paris street, a man has been detained by police.
Marie Laguerre had shared CCTV footage of the moment she was hit in the face near a cafe by a man who had harassed her as she walked home from work.
The suspect had been receiving psychiatric treatment at a hospital and was arrested as he left, reports say.
Ms Laguerre has been asked to identify him on Wednesday.
Named Firas M by French media, the 25-year-old man had been sent to the hospital as part of a separate judicial case. Investigators had got hold of his phone number and traced him to the hospital.
They had run into difficulties with the hospital because of medical confidentiality, Le Parisien reported. The suspect was described as disturbed and violent and "capable of hitting his mother," the report said.
Paris prosecutors launched an investigation into the attack on Ms Laguerre on 30 July, amid public shock at the blatant attack on the 22-year-old student in the 19th district of north-east Paris.
The images of a woman being followed and then slapped on CCTV coincided with legislation that will soon see on-the-spot fines for street harassment. The new laws have been put forward by Equalities Minister Marlène Schiappa, who praised police for arresting the suspect.
For complaints, investigations and soon verbal abuse in the street, she said French police were "first in line to let nothing go unpunished".
Marie Laguerre said at the time that the man had made degrading comments and "noises with sexual connotations".
It had not been the first time she had been harassed "that day, that week or that month" and she had told him to "shut up". After they had exchanged insults, the man marched towards her and struck her forcefully in the face.
She said she was relieved that an arrest had been made. "I was lucky, because I think the media exposure has given the case added momentum," she told Europe 1 radio.
In the wake of the attack, she set up an online platform for women to give their own experiences anonymously of being attacked in the street. In its first week it received 1,000 contributions. France has had its own #MeToo movement, with the hashtag #BalanceTonPorc (rat on your pig).
"If it really is the attacker, this will send a powerful message to anyone who behaves violently towards women." She was abroad on holiday but was due to go to police on Wednesday.