Russia war games: Biggest since Cold War 'justified'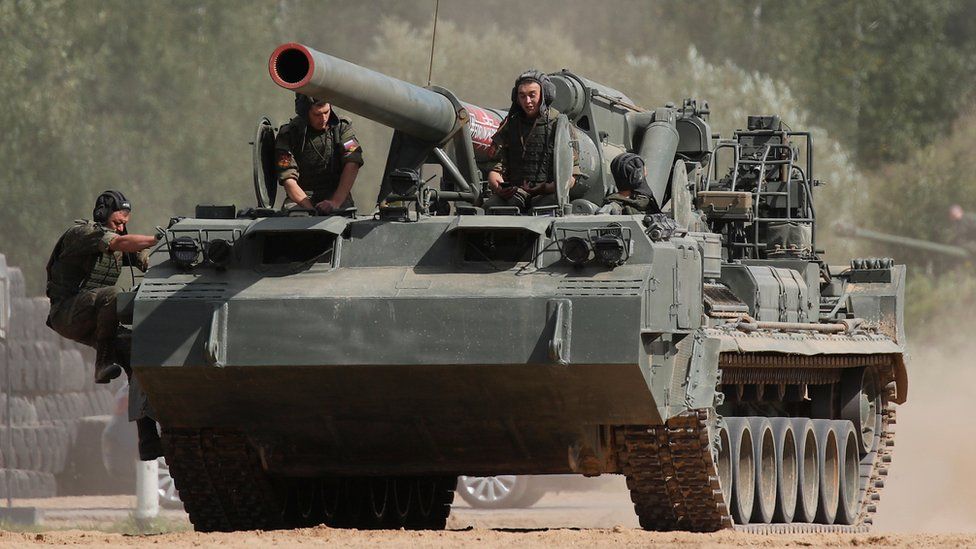 Russia plans to hold massive war games involving 300,000 personnel next month - its biggest military manoeuvres since a Cold War drill in 1981.
Kremlin spokesman Dmitry Peskov said the Vostok-2018 drills were justified given "aggressive and unfriendly" attitudes towards his country.
Units from China and Mongolia will also take part in the exercises at military ranges in central and eastern Russia.
The manoeuvres come at a time of rising tension between Nato and Russia.
What will take place in the drills?
Defence Minister Sergei Shoigu said 36,000 tanks, armoured personnel carriers and armoured infantry vehicles would take part in Vostok-2018, from 11 to 15 September, along with more than 1,000 aircraft. Vostok is Russian for east.
All of Russia's airborne units and two of its naval fleets will also take part in the drills across Siberia and the Russian Far East.
Mr Shoigu compared the Vostok-2018 exercises to Soviet manoeuvres in 1981, which involved a pretend attack on Nato. He said: "In some ways they will repeat aspects of Zapad-81, but in other ways the scale will be bigger."
Mr Peskov said the involvement of Chinese units showed Russia and Beijing were co-operating in all areas.
Read more on Russia's military:
The scale of Vostok-2018 is equivalent to the forces deployed in one of the big World War Two battles.
A smaller-scale Russia-Belarus exercise was held in western regions last year.
President Vladimir Putin has made military modernisation - including new nuclear missiles - a priority.
Russia's armed forces are reckoned to have about one million personnel in total.
How and why will China be involved?
The Chinese defence ministry put out a fairly dry statement talking of deepening military co-operation and "enhancing both sides' capabilities to jointly respond to various security threats".
But it did say the exercises would "not target any third party".
The ministry also confirmed the extent of the Chinese involvement - "3,200 troops, more than 900 pieces of military hardware as well as 30 fixed-wing aircrafts and helicopters" - and confirmed the location - the Tsugol training range in Russia's Trans-Baikal region. Some of the forces have already arrived.
Details of the Mongolian involvement are unclear.
Giant exercise, giant bill
Analysis by the BBC's Sarah Rainsford in Moscow
The scale and scope of Vostok-2018 is unprecedented for modern Russia, but no surprise. The giant drill is clearly meant as a show of strength by Vladimir Putin and his military, a demonstration that - despite Western sanctions, including against the defence sector - the country remains defiant.
It's also a reminder that while Russia is seen as a hostile and aggressive force in the West, Moscow has long seen Nato encroachment as the threat. President Putin's spokesman argued that Vostok was essential, in what he called a "very aggressive and unfriendly" international context.
It's how he defended the presumably giant bill for such a giant event, too, at a time when Russians are protesting furiously against a reform of the pension system they're told is critical, because social spending is unsustainable as it stands.
Spokesman Dylan White said Nato was briefed on Vostok-2018 in May and would monitor it.
He said the organisation was considering a Russian offer to allow Nato military attachés based in Moscow to be sent to observe the drills.
He said in a statement: "All nations have the right to exercise their armed forces, but it is essential that this is done in a transparent and predictable manner."
He added: "Vostok demonstrates Russia's focus on exercising large-scale conflict. It fits into a pattern we have seen over some time: a more assertive Russia, significantly increasing its defence budget and its military presence."
Why is Russia-Nato tension high?
It has been increasing since Russia annexed the Crimea from Ukraine in 2014 and backed pro-Russian rebels in eastern Ukraine.
Nato has reacted with an increased deployment of forces in eastern Europe, sending 4,000 troops to member nations.
Russia says the Nato build-up is unjustified and provocative.
The poisoning of Russian ex-spy Sergei Skripal and his daughter, Yulia, in southern England in March did not help relations, with Nato expelling Russian diplomats.
The UK and the US - both Nato members - say Moscow was behind the attack, although Russia denies it.