Russia's Putin softens pension reforms after outcry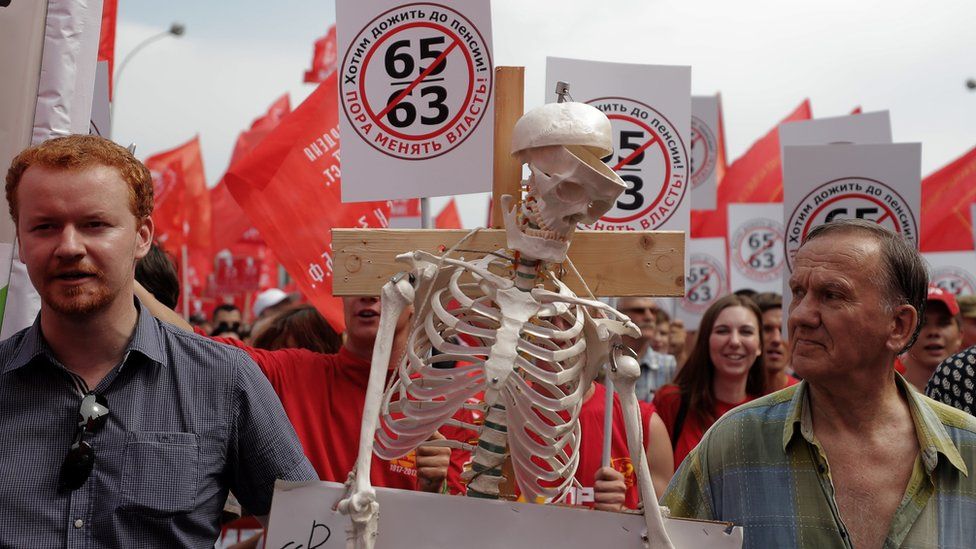 Russian leader Vladimir Putin has softened planned pension changes following angry protests and a slump in his approval rating.
He said the retirement age for women would be increased from 55 to 60 instead of to 63. But a five-year increase for men, to 65, would stay.
In a rare TV address, Mr Putin said the country's working-age population was shrinking, making change essential.
Unions have warned that many will not live long enough to claim a pension.
Russian men have a life expectancy of 66 while for women it is 77, the World Health Organization says.
The issue has seen support for Mr Putin fall to 64% from 80%, according to VTsIOM state pollster.
Mr Putin said the move to raise the retirement age for men and women had been delayed for years and risked causing inflation and increasing poverty.
Postponing it further would threaten the stability and security of Russian society, he said.
"Any further delay would be irresponsible," he said.
"Our decisions should be just and well-balanced," he added.
Until his TV address he had attempted to distance himself from the row, and had in the past promised that the pension age would never be raised on his watch.
Under the new plan, to be implemented from 2019, the retirement age for men will be increased gradually from 60 to 65.
Before Mr Putin's intervention women were to have to work another eight years from 55 to 63 - their planned retirement age has now been reduced to 60.
The BBC is not responsible for the content of external sites.
Skip twitter post by Steve Rosenberg
Allow Twitter content?
This article contains content provided by Twitter. We ask for your permission before anything is loaded, as they may be using cookies and other technologies. You may want to read Twitter's cookie policy, external and privacy policy, external before accepting. To view this content choose 'accept and continue'.
The BBC is not responsible for the content of external sites.
End of twitter post by Steve Rosenberg
Mr Putin said that Russia "cherished women".
"Women not only work but they also take care of the house and children and grandchildren. Their retirement age should not increase by more than that of men," he said.
Women with three or more children could retire earlier, he added.
Prime Minister Dmitry Medvedev has previously said the decision was motivated by the fact that Russians are living longer and leading more active lives.
He said there were 12 million working pensioners in Russia, equal to nearly a quarter of all pensioners.
What protests have there been?
Tens of thousands have rallied across Russia in recent weeks.
"Help the state, die before your pension," read one home-made placard in the Siberian city of Omsk in early July, where about 3,000 people turned out.
"The government must go," read another.
This activist posted photos from a protest in Komsomolsk-on-Amur in Russia's far-eastern region in early July.
The BBC is not responsible for the content of external sites.
Unusually for Russia, protesters have been from all sides of the political debate.
Communist Party red flags and nationalist banners flew side by side, and opposition supporters joined in too.
The initial announcement was made at the same time as the World Cup in Russia began, prompting criticism that the Russian government was trying to bury bad news.
Why does Russia want to raise the pension age?
Most economists and many Russians agree there is a problem. The population is getting older and the state is spending more and more on pensions.
After the economic chaos of the early 1990s, Russia's population plummeted. The birth rate has since shown some signs of improvement, but it is not happening fast enough.
Based on current trends, 20% of Russians will be over 65 by 2050, says the UN.
President Putin has just signed a new bill on pension spending, envisaging a deficit of more than 265bn roubles (£3.1bn; $4.2bn) in 2018. That's 1.6% of the entire state budget expenditure.
It is clearly not a sustainable situation, especially in tough economic times.