Dutroux murders: Belgian child-killer's letter angers parents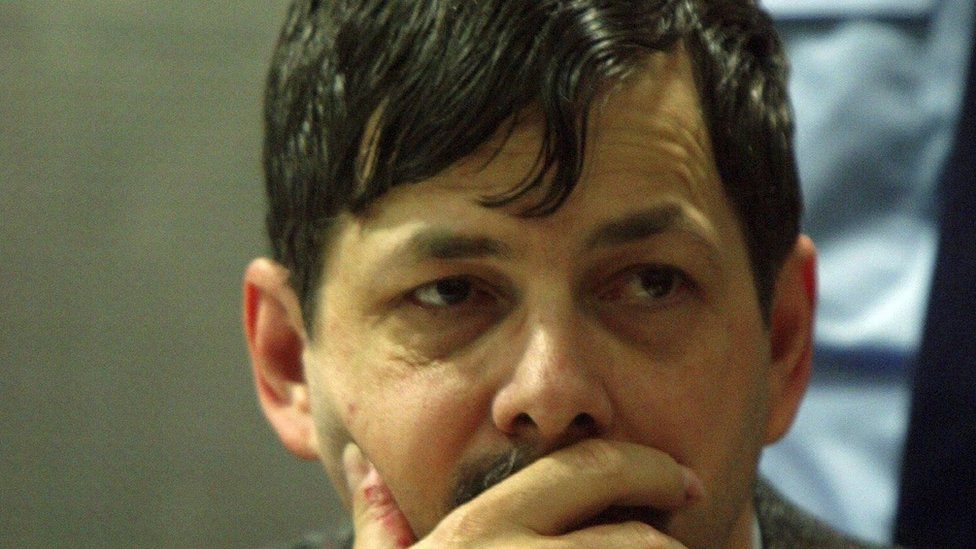 An infamous child killer who abducted, raped and murdered girls in Belgium in the 1990s has enraged victims' families with a letter offering to answer their questions.
Marc Dutroux was jailed in 1996 and has for years sought release from prison.
Now his lawyer has written to the six families in an attempt to help "heal their wounds, in some very modest way".
Several families have rejected the approach as a cynical move aimed at securing parole.
Now 61, Dutroux was a seasoned criminal when he and his wife Michelle Martin were arrested for abduction and rape in 1986. Jailed in 1989, he was released on parole after just three years.
In 1995 and 1996 he kidnapped six girls. He murdered two teenagers, An Marchal and Eefje Lambrecks, and two eight year olds, Julie Lejeune and Melissa Russo, starved to death in his cellar.
Two girls aged 12 and 14 survived. Giving evidence against him in court, Sabine Dardenne had asked him, "Why didn't you kill me?"
Dutroux had claimed he was part of a paedophile network involving well-connected figures, and police incompetence in his case led to widespread accusations of a cover-up.
When he grabbed a policeman's gun and briefly escaped from a court in 1998, two government ministers resigned. His ex-wife was given early release from prison in 2012.
What does the letter say?
For the past week, there have been reports of a letter being sent to the victims' families, but it only reached them on Wednesday.
While Dutroux himself promised he would not seek direct contact, he was "ready to provide answers if you wanted to pose questions". It was not a matter of creating controversy, or reopening wounds but of contributing, even in a very modest manner, towards healing them, the letter said.
Belgian reports pointed out that Dutroux has to satisfy five criteria in order to secure parole, and three of them directly relate to the victims.
How have the relatives responded?
The revulsion of the families was immediately clear.
For Jean Lambrecks, father of Eefje, it was a "big publicity stunt from a lawyer with lots of time and few clients". He said the letter, written in French, was meaningless and had not even been translated into Dutch.
"After 23 years, it's time this circus just stops. We're not getting involved," Paul Marchal, An's father, told Belgian TV.
Jean-Denis Lejeune denounced the letter as a sort of "moral torture". He had learned of its existence on 23 August, the anniversary of his daughter's funeral.
Gino Russo, father of Melissa, said any idea of pardoning his daughter's killer was out of the question. "I'll leave that to God," he told French TV. Her mother, Carine Russo, spoke of moral harassment.
The lawyer representing one of the two girls who survived, Georges-Henri Beauthier, condemned the "syrupy" language of the letter and said he would rather keep this sort of debate confined to the courtroom rather than being aired in public.