Iosif Kobzon: Russians mourn 'Soviet Sinatra'
By Sarah Rainsford
BBC News, Moscow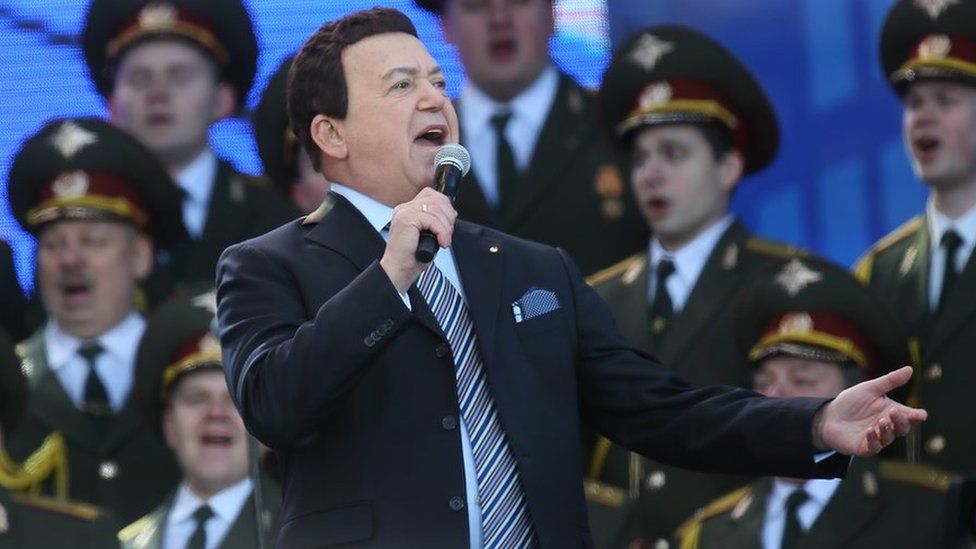 The crooner, Soviet icon and later Russian MP Iosif Kobzon has died at the age of 80.
The death of the singer, who had long been ill with cancer, has sparked a wave of tributes on state television and social media for a man who provided the soundtrack to many Russians' lives.
Russian tributes praised his "unique" baritone, as well as his patriotism.
The foreign ministry spokeswoman went so far as to call him a "human continent".
But the performer, once dubbed the Soviet Sinatra, was a controversial figure in later life. He was a staunch supporter of the annexation of Crimea from Ukraine and labelled by some commentators as a "propagandist".
Iosif Kobzon began his career in a military choir, going on to study music, before hitting the stage and quickly shooting to Soviet stardom.
He performed for Soviet troops in Afghanistan, in Chernobyl after the nuclear disaster, and in 2016 sang for Russian soldiers in Syria.
He entertained Russians in their living rooms for decades, seemingly never missing a TV variety show or New Year concert. He was there again as 2018 began.
His popularity peaked in the 1970s and 80s, but he remained in the public eye, and on stage, even after his diagnosis with cancer in 2002.
Many Russians will best remember Iosif Kobzon for the signature tune to the classic Soviet spy series Seventeen Moments of Spring. President Putin himself is a big fan of its hero, agent Stierlitz.
For others, it is the singer's ever-black hairdo, sculpted and static, and his pencil-drawn eyebrows that are legendary.
Political career as Putin loyalist
His varied life included a long stint in parliament, where he represented Vladimir Putin's United Russia party.
In 2002, he helped negotiate the release of several hostages during the Nord Ost theatre siege, holding talks with the armed militants who had stormed the building and planted explosives.
In the 1990s the singer was banned from the USA for suspected mafia connections.
It was after the Russian annexation of Crimea from Ukraine, though, that Kobzon fell under EU sanctions, including a travel ban.
He had joined a long list of cultural figures in Russia signing a statement of firm support for President Putin and the annexation. They declared that Russia and Crimea had been united "forever" by their "joint history and roots".
Kobzon was subsequently slammed for hypocrisy by Russian liberals, when he sought to bypass the EU sanctions and travel to Europe for cancer treatment.
Born in then-Soviet eastern Ukraine, he travelled back in 2014 to perform in Donetsk and Luhansk, which were then controlled by Russian-backed armed rebels.
He was filmed singing a duet there with camouflage-clad rebel leader, Alexander Zakharchenko.
Ukraine declared the singer a threat to national security and placed him on a list of banned artists.
Kobzon called on other Russian artists to follow in his footsteps. "It's much nicer here than in France or somewhere, drinking vodka," he insisted.
"We need to work here. For our people. For the Slavs."
Over the years, the singer was awarded the title of National Artist of Russia, the USSR and then Ukraine. More controversially, he was also named honorary consul to Russia by the self-styled People's Republic of Donetsk (DNR).
Like or loathe his politics, few Russians could say they had never heard of Kobzon.
And as his tributes roll on state television, the singer's deep, rich voice is filling living rooms and kitchens across the country once again.