Trump Irish visit plan came 'out of the blue' - Varadkar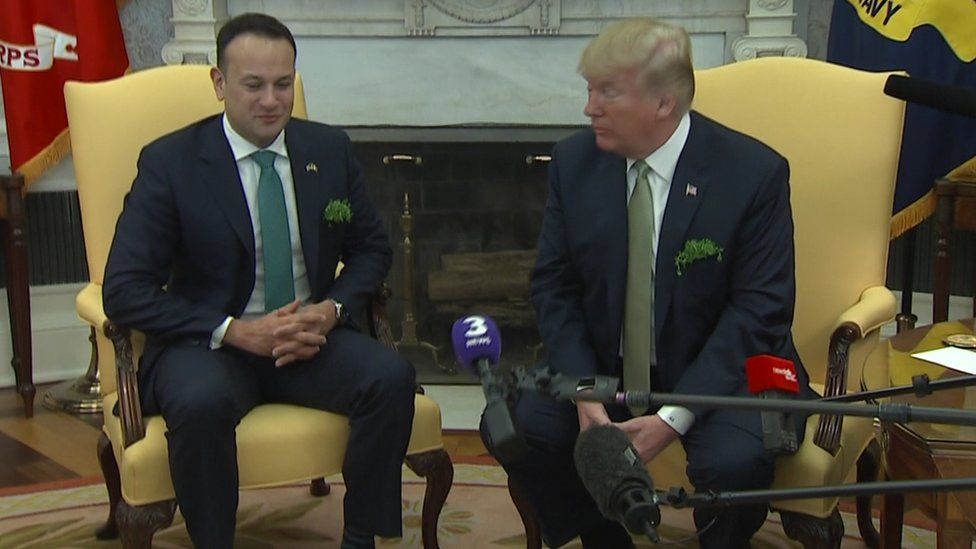 The US president is to take up an open invitation from the Irish government to visit in November.
Speaking on RTÉ Radio on Sunday, Taoiseach Leo Varadkar said the Irish government had not known until "a couple of days ago" he would be coming.
There have been calls from opposition parties and campaigners for protests.
Mr Trump will visit Ireland on his way to or from Paris, where he will mark the centenary of the armistice that ended World War One on 11 November.
No itinerary has been issued but it is expected that the president will visit a golf resort he owns in Doonbeg, County Clare, with a trip to Dublin to follow.
Taoiseach Leo Varadkar tells RTÉ Radio 1's The Marty Squad that confirmation of US President Donald Trump's visit to Dublin and Doonbeg in November came 'out of the blue' pic.twitter.com/REdyya0EIW

— RTÉ News (@rtenews) September 2, 2018
Mr Varadkar said he shared many people's objections to the US president's policies:
"A lot of people dislike him - a lot of people object to him.
"A lot of people disagree with a lot of his policies, just as I do in fact."
But he said Ireland's relationship with the US was "so strong, so important" and Mr Trump's office should be treated with the respect that it deserved.
The taoiseach said the schedule for the trip would have to allow for the inauguration of the Irish President on 11 November, and the marking of centenary of the end of World War One.
The leader of the Labour Party in the Republic of Ireland, Brendan Howlin, said Mr Trump is "no friend of democracy or human rights".
He said his party would strongly oppose the visit.
The Green Party has called on the Irish government to cancel the visit.
The largest opposition party in the Dáil (lower house of the Irish parliament), Fianna Fáil, said the visit by Mr Trump follows a history of welcoming previous US presidents to Ireland.
The party's foreign affairs spokesperson, Niall Collins, said the occasion gave the government the opportunity to reiterate Ireland's position "that the need for decency, compassion, respect for international diplomacy has been been as important".