Amsterdam attack: Jihadist knifeman shot in nine seconds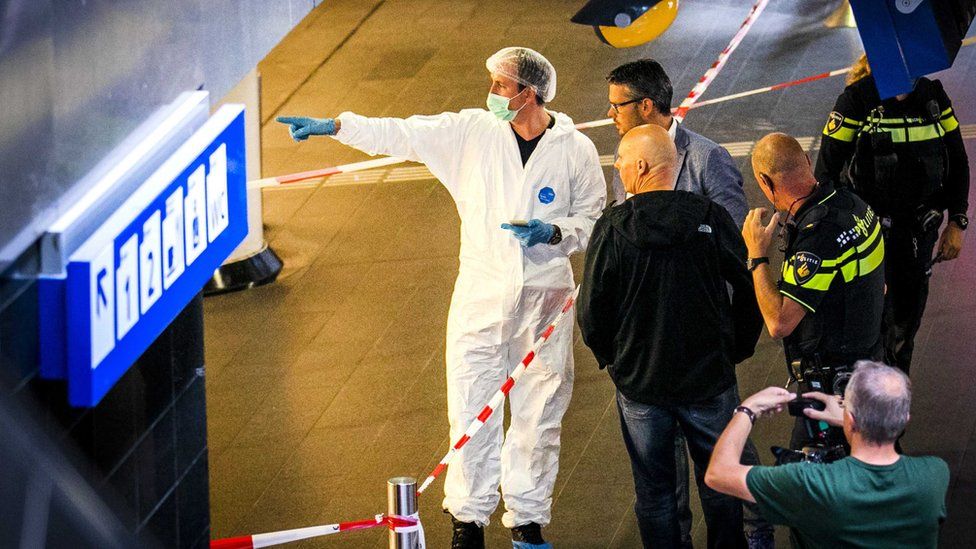 A 19-year-old Afghan who stabbed two American tourists in Amsterdam was shot just nine seconds after he launched his attack, the city's police chief has revealed.
Commissioner Pieter-Jaap Aalbersberg said a special "spotter" had been watching the suspect when he pulled out a knife at Amsterdam's central station.
Moments later teenager Jawed S was shot in the hip, he said.
The suspect's lawyer has revealed the man had expected to die in the attack.
Jawed S, an asylum seeker who arrived in Germany in 2015, had travelled by train to Amsterdam on Friday. The German authorities say they were tipped off in February that he had become radicalised while living at a youth facility.
"My client appears to have made the assumption that he wasn't going to survive his attack, because a will was found at his home in Germany," said lawyer Simon van der Woude.
He believed the teenager had been acting in response to a cartoon competition proposed by anti-Islam politician Geert Wilders, as well as an earlier video involving the Prophet Muhammad.
Dutch prosecutors said this week that Jawed S had had a "terrorist motive" and had been "of the opinion that in the Netherlands the Prophet Muhammad, Islam and the Koran were insulted".
Mr Wilders had cancelled the competition the day before the attack but Mr Van der Woude said his client did not appear to know.
The Amsterdam police chief told Dutch TV that Jawed S had got off a train shortly before midday on Friday and a few minutes afterwards his "abnormal behaviour" had come to the notice of a member of a team of public transport police trained to spot pickpockets as well as potential terrorists.
"He called two colleagues over," said Mr Aalbersberg. "While they are working out how to go and talk to him, they see he starts stabbing."
One of the tourists was stabbed in the back at a kiosk before a second was attacked.
The police, who were by now 20m (65ft) away, drew their weapons. As Jawed S ran towards another potential victim, an officer opened fire and brought him down.
Within minutes, police had looked through CCTV images and determined that the man had been acting on his own.
"There were two victims and that is very serious, but the number was kept to a minimum," the commissioner said.
"Within nine seconds it was over and the officers made the difference during one precise moment," he added, stressing that they had saved lives.
The attacker was apparently unaware his victims were Americans. US ambassador Pete Hoekstra told Dutch TV late on Tuesday that it was an "attack on Western values".
What is the role of spotters?
Police say the central station in Amsterdam has long been identified as a potential target for attack and that they have a permanent team on duty.
They adapted an Israeli approach called "predictive profiling" whereby a suspect can be identified through suspicious patterns of behaviour.
"First of all a spotter assesses what behaviour is normal in a particular place," police trainer Geoffrey Rijtslag told the Volkskrant newspaper.
Anyone who deviated from that or started hanging around aimlessly was considered abnormal. At that point they would be approached by at least two officers.
The Amsterdam police chief said there were other indicators that spotters would consider too. Anyone who was waiting for a train would normally be expected to look at departure boards.