Cécile Djunga: Belgian forecaster hits out at race insults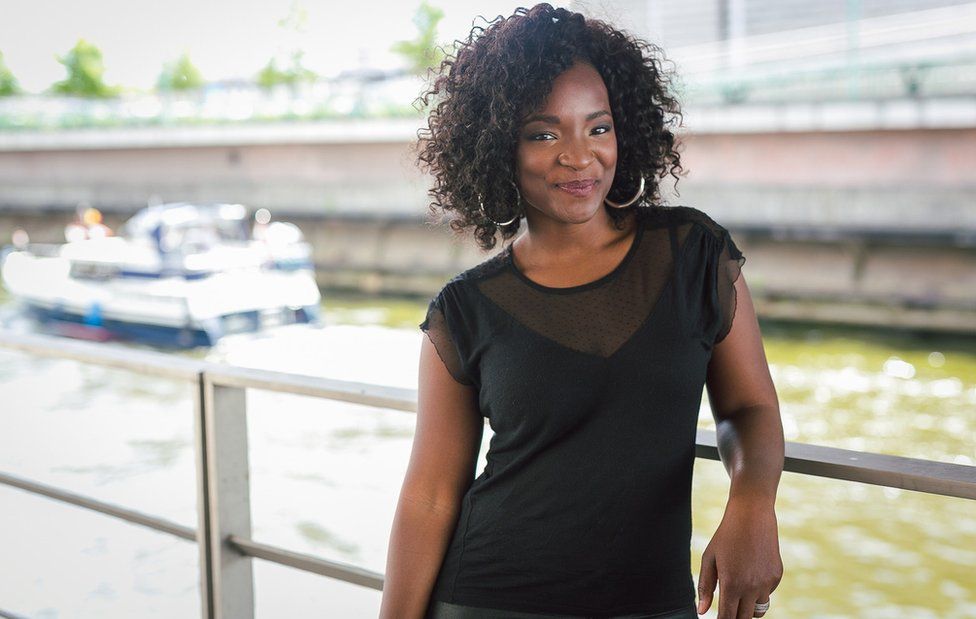 Cécile Djunga has been presenting the weather on Belgian public TV for a year, and after being subjected to a stream of racist comments she has decided to fight back.
In a five-minute appeal on Facebook, Ms Djunga says one viewer rang into work to complain she was "too black and all people could see were my clothes".
The video went viral, viewed by a million people.
Her employer, RTBF, has given full backing to its presenter.
Its head, Jean-Paul Philippot, told Belgian radio on Thursday that Ms Djunga had passed on a string of messages she had received in recent months and had not reacted to them.
"There's no place for this torrent of mud in Belgium," he said. "Racism is a crime, punishable by law."
As well as being a weather presenter on Belgium's French-language public TV, Cécile Djunga has carved out a career as a stand-up comic, with a show called Almost Famous.
In her Facebook appeal she starts off saying "if you want a good laugh, I've got a good one for you today", before talking about the woman who rang in to say she was "too black".
This complaint, she explained later, was for her the final straw.
Skip facebook video by Cécile Djunga
Allow Facebook content?
This article contains content provided by Facebook. We ask for your permission before anything is loaded, as they may be using cookies and other technologies. You may want to read Meta's Facebook cookie policy, external and privacy policy, external before accepting. To view this content choose 'accept and continue'.
The BBC is not responsible for the content of external sites. Facebook content may contain adverts.
End of facebook video by Cécile Djunga
And her anger in the video is clear.
"It doesn't stop. I've been doing this job for a year and I'm fed up of getting tonnes of racist and insulting messages... It hurts because I'm a human being."
Close to tears she goes on to say that some of the messages use racist words, telling her "go back to your country", adding that she chose to speak out because too many Belgians believed that racism did not exist there.
Speaking on Belgian TV late on Wednesday evening she said it was important to broaden the debate about racism and not focus just on her.
Many people had told her of their own experience as victims of racism.
Ms Djunga's decision to go public received widespread support.
Belgian footballer Christian Kabasele, who plays for Watford in the English Premier League, praised her on Twitter.
"Just a little message to all our racist friends. Don't get jealous if some people have managed to give their lives meaning while you haven't! I hope you get the message. Bravo, stay strong @ceciledjunga"
Her story also prompted a political response in Belgium, with senior members of the Walloon government in French-speaking Belgium urging the media to promote equality and diversity.
Ms Djunga said there was already an anti-sexual harassment campaign to "rat on your pig" (balance ton porc) and she proposed another campaign to rat on racists too.
"I am Belgian and now they're going to stop telling me to go back to my country. Because this is my country," she said.