Novichok attack: Russia scorn for UK's 'cheap soap opera'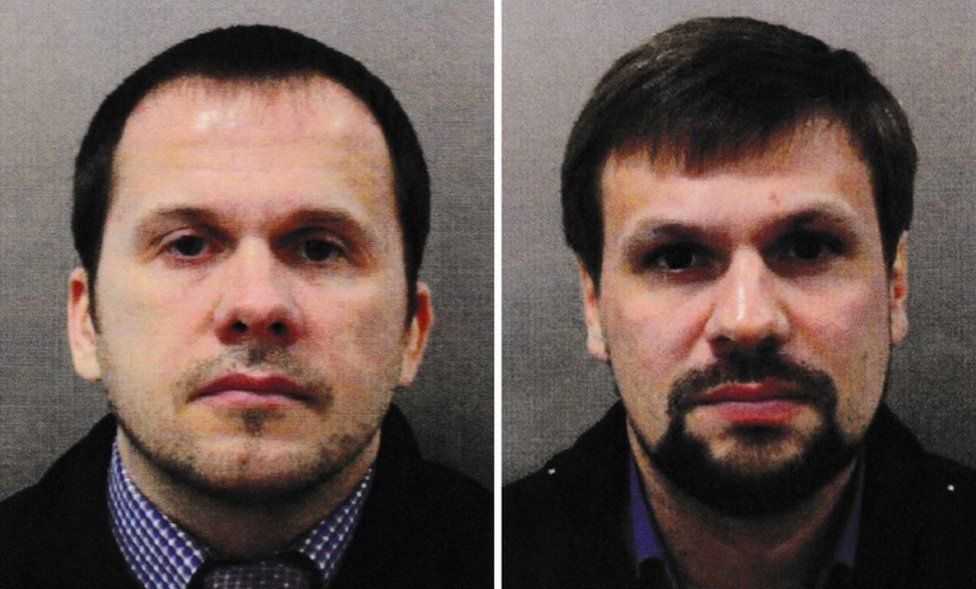 If Russia does feel under pressure since British police named the two suspects in the Salisbury poisoning, it's not showing it.
From the start, Moscow has always denied having anything to do with the nerve agent attack, demanding evidence.
Russia's response is peppered with a hefty dose of scorn, transmitted faithfully by state-controlled media.
Commentators have dismissed London's case as "fantasy".
One newspaper proclaimed the detailed reconstruction of the two suspects' movements in Britain as reminiscent of a "cheap soap opera, not the work of an intelligence agency". Another called it closer to a poor political thriller than the truth.
On social media too, Kremlin-friendly accounts have rubbished the idea that Russian agents would be so incompetent as to be caught on camera together in broad daylight.
And as before when accused of something huge - whether interfering in elections, helping stage a coup or shooting down a passenger plane - Russian officials have opted for distraction as well as denial. They like to focus in deep on tiny details, to sow doubts.
One such chance came this time with two screenshots of the suspects identified by British police.
Taken from CCTV footage at Gatwick Airport security gates, the images each had an on-screen clock that seemed to show both men in the same place at the same time. Foreign ministry spokeswoman Maria Zakharova dived in to accuse UK officials of "divine-level trolling".
When social media users pointed out that the Gatwick security area has parallel corridors, she switched tack.
"Why should we have to figure out the inconsistencies?" Ms Zakharova demanded to know on her Facebook page, before accusing the British authorities of withholding all sorts of information from Russia. The result, she said, was an investigation that's one "big fake".
Amongst those Russians who even care are plenty who seem to agree with her. Many others are more worried about inflation and a plan to delay retirement than an attack on an ex-spy who betrayed his country.
As for the Kremlin, Vladimir Putin's spokesman on Thursday upbraided British officials, including Theresa May, for linking Russia's president directly to the Salisbury attack.
"Neither the highest leadership, nor lower ranked leaders, nor any official representative had anything to do with it," Dmitry Peskov stressed, describing all claims to the contrary as unacceptable.
His tone, though, sounded more weary than strident.
It seems unlikely the two suspects themselves will surface any time soon, if they are military intelligence agents from the GRU. Mr Peskov said Russian officials would not be seeking to "identify" the men, even to disprove the UK's claims of their involvement.
A lot of the tough talk on this case is clearly aimed at a domestic audience: claims of anti-Russian campaigns do help feed a siege mentality.
Even so, officials must be bracing for the consequences.
Under their terms, if Moscow doesn't stop using chemical weapons and admit inspectors to check that by late November, then further - far more punishing - sanctions kick in. They could include banning Russian flights to the US and deeper trade and financial restrictions.
Officials here are already insisting that was the intention with the Skripal poisoning all along.
They paint the Novichok attack as an elaborate plot to frame Russia, punish it with sanctions - and so humiliate and weaken a dangerous enemy.
This from the country that accuses Britain of scripting fantasies, soap opera and thriller plots.
Read more on Putin's Russia: