Barcelona blocks tiny 'haibu' living pods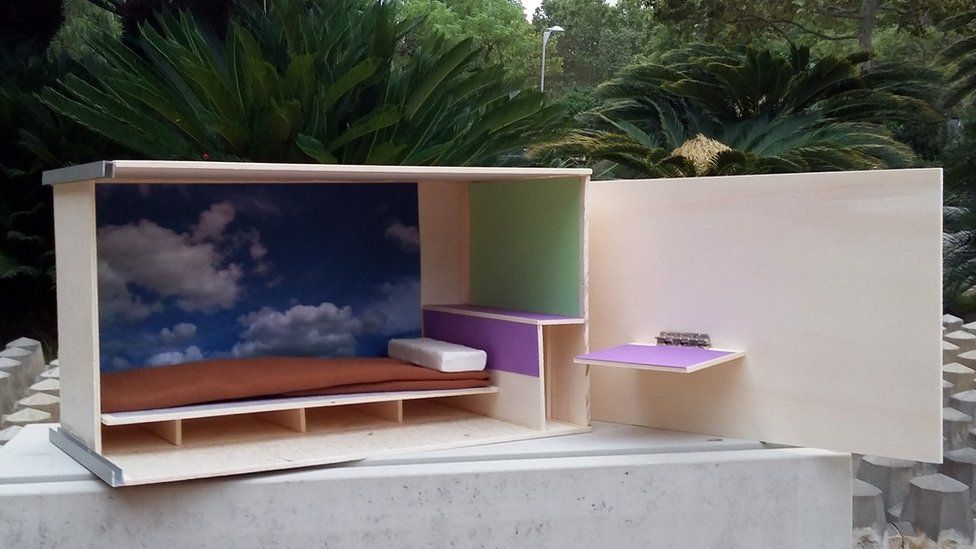 Could 2.4 sq m (25.8 sq ft) living pods be the answer to the housing crisis in Western cities?
One company in the Spanish city of Barcelona thinks so - but the city's mayor disagrees and has blocked them.
"Fortunately piling up people is prohibited," Ada Colau, a former housing and anti-eviction activist, told reporters.
Barcelona's regulations say housing units must have a minimum floor space of 40 sq m, El País newspaper reports.
Íñigo Errejon, an MP from the anti-austerity party Podemos, said there were "similar houses in cemeteries - they are called coffins".
Undeterred, the company, Haibu 4.0, is pressing on with its project Haibu, which means beehive in Japanese, and takes inspiration from Japan's popular capsule hotels.
It has started building the first pods on empty business premises and says they will be ready by the end of the month. A total of 38 capsules will be available, it says.
Each capsule has a bed, TV, storage space and power plugs. There is also a living area with a kitchen equipped with several microwave ovens, a lounge and bathrooms. The monthly rent of €200 (£180; $235) includes bills and wifi, the company's website says.
They are significantly smaller than shipping containers, which have been converted into low-cost housing in several locations around the world and come in two sizes, offering 15 sq m or 30 sq m of floor space.
The pods would be rented to people aged between 25 and 45 who had a minimum salary of €450. About 500 people have shown an interest, the company says.
People are social creatures meant to live in supportive communities, the website adds. However the rules stipulate that no more than one person is allowed to live in a pod and people are not allowed to have sex in them "in order to maintain respect for the others living there".
Victoria Cerdan, one of the entrepreneurs behind the project, told AFP news agency the pods would enable people who could not afford available housing to "band together and move ahead".
"Obviously it is not adequate housing, no one would want it for themselves," she said. "But no one wants a monthly salary of 500 euros and unfortunately they exist. Instead of living on the street, we offer this."
"Citizens who are going through a difficult financial period should not have to sleep out on the streets or in a hostel. Our company lets them live with dignity..."
Does it fill a gap in the market?
It comes against a background of soaring rents in big Spanish cities. In Barcelona the average rent for a flat rose by nearly a third between 2014 and 2017 to just over €900, AFP reports.
Haibu 4.0, says it is ready to move its project to another European city with similarly high rents such as Copenhagen, Paris or Rome if the Barcelona authorities do not allow it to operate, El País reports.