Swedish election: PM says voting for anti-immigration SD is 'dangerous'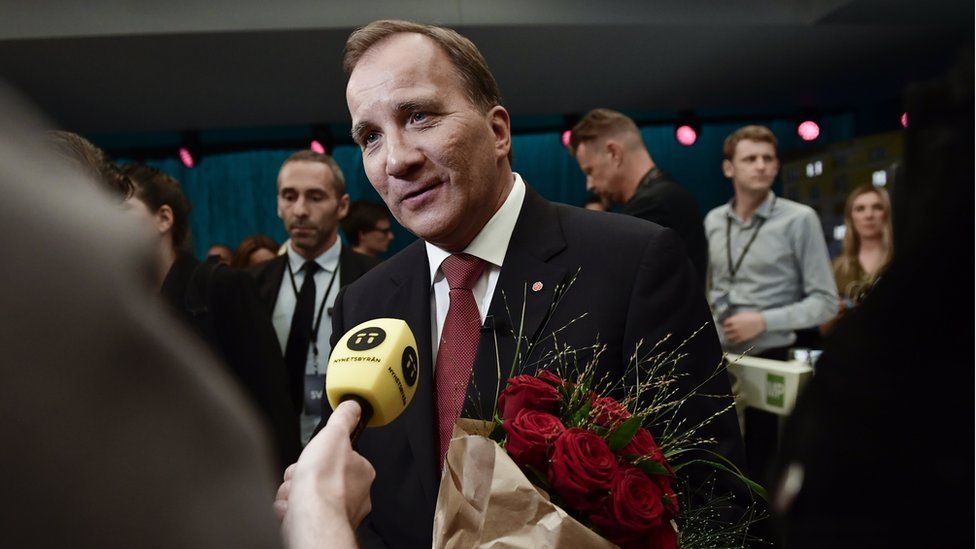 Sweden's Prime Minister Stefan Lofven has begun the final day of the general election campaign by warning about extremism and fascism.
Neither his centre-left Social Democrats nor the main centre-right party is likely to win a majority.
The anti-immigration Sweden Democrats (SD) is expected to win around 20% of the vote, becoming the second biggest party in parliament.
Mr Lofven said an SD vote was "dangerous" and "counterproductive".
He said it was "like trying to quench fire with alcohol", according to the Omni news site.
Immigration has been a central issue of the election campaigns.
The nationalist SD doubled its seats in the 2014 election and it is predicted to double them again on Sunday.
On Saturday, SD leader Jimmie Akesson said Sweden had been "an extreme country in many ways, not least when it comes to immigration" and that his plan to take in fewer migrants would be regarded as "normal politics in the rest of Europe".
Who are the Sweden Democrats?
The SD was linked for years to neo-Nazis and other far-right groups, only entering parliament in 2010.
It has been working to rebrand itself, changing its logo from a flaming torch (similar to the one used by the UK far-right National Front) to a blue-and-yellow daisy, the colours of the Swedish flag.
Traditionally appealing to working-class men, it wants to attract more women and more educated and higher-income voters.
Mr Akesson, who became leader in 2005, says there is zero tolerance towards racism in the party and several members have been expelled.
However, the party has still been embroiled in various racism scandals.
One municipal candidate shared a song on Facebook with the lyrics "Swedes are white and the country is ours", according to a report in tabloid Aftonbladet.
Last year, some of its ex-members went on to found the far-right Alternative for Sweden (AfS).
Sweden's economy is booming but many voters are concerned that housing, healthcare and welfare services have come under pressure from a wave of immigration during the 2015 migrant crisis.
That year Sweden took in a record 163,000 asylum seekers - the highest such intake in the EU, per head of population.
Sweden's traditional parties have since hardened their tone to reflect concerns about integration.
Many voters are also concerned about violence. The SD links a rise in shootings to increased immigration, although official figures show no correlation.
The SD also wants to leave the European Union and has proposed a "Swexit" referendum. However, the powerful centrist parties all oppose such a vote, so it is unlikely to go ahead.
Aside from immigration, climate change is an issue many Swedes care about - particularly after a long, hot summer and severe forest fires.
During the heatwave, around 25,000 hectares of forest burned in wildfires and many farmers were forced to destroy livestock after their pasture land dried up.
Support for the Green party, which had been struggling after various internal scandals, has crept up across the country.
The Left party is making gains too, from the environmentally concerned and from centre-left voters dissatisfied with the mainstream parties' approach to migration.
Prime Minister Lofven currently heads a minority, centre-left coalition government made up of his Social Democrats and the Green Party.
In recent years there has been a fall in support for the Social Democrats and the largest traditional opposition party, the centre-right Moderates.
However, polls suggest that the Social Democrats are narrowly ahead of other parties and may be in a position to lead another minority government.
Both the Social Democrats and the Moderates have said they will not enter a coalition with the SD, however well they perform.