Russia's Navalny challenged to a duel by Zolotov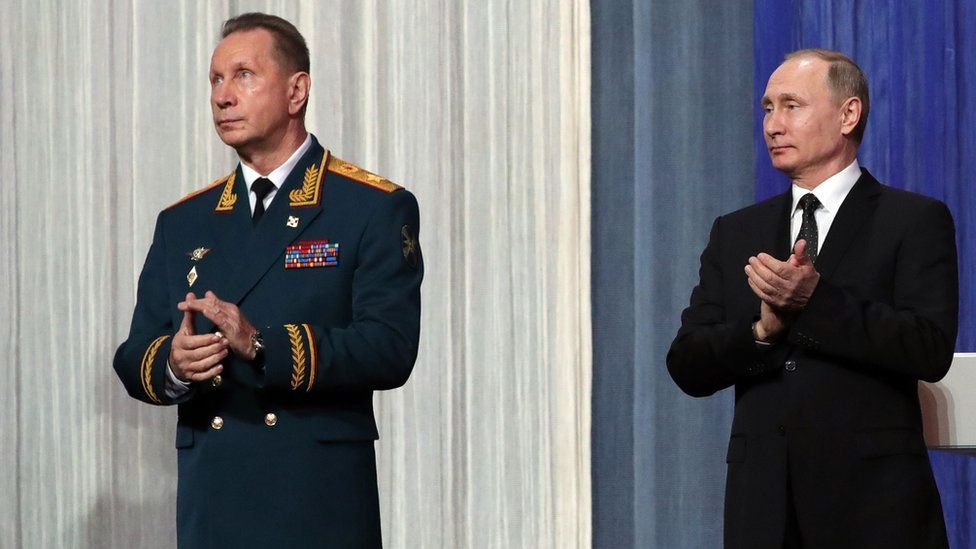 The head of Russia's National Guard has uploaded a video challenging opposition leader and anti-corruption activist Alexei Navalny to a duel.
Viktor Zolotov, who used to be Vladimir Putin's bodyguard, promised Mr Navalny "payback" and said he would "make a juicy beefsteak out of" him.
Mr Navalny published a video last month alleging that National Guard leaders were corrupt - angering Mr Zolotov.
Mr Navalny is currently in jail for breaking anti-protest laws.
He is Russia's most prominent opposition leader and has led nationwide protests against the authorities.
However, he was banned from running for president this year because of a conviction for embezzlement which he describes as politically motivated.
Last month Mr Navalny released a report on the National Guard - claiming that its leadership bought sub-standard food for its soldiers, at inflated prices, as part of a corrupt scheme.
Days later he was sentenced to jail for 30 days for organising an unauthorised protest in January.
Mr Zolotov condemned Mr Navalny's allegations in Tuesday's video, calling them "offensive and nasty lies".
"Nobody has given you a quality kick in the ass... I simply call you to a duel," he said in a video published on the National Guard's YouTube page.
"I promise to make a juicy beefsteak out of you in just a few minutes."
Mr Navalny's former campaign chief Leonid Volkov said Mr Zolotov had made some "very serious threats" - but also mocked his video, saying he "must have forgotten" that the opposition leader is in jail and cannot respond.
Vladimir Putin's spokesman Dmitry Peskov said he supported Mr Zolotov's opinion, because "libel must be nipped in the bud", but added that he did not think the video counted as a physical threat.