Orin McBride inquest: Doctor says "everything was done"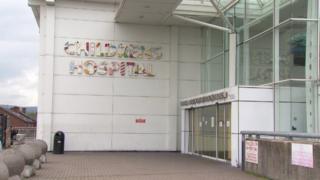 The medical consultant in charge of treating a boy, who died from pancreatitis at the Royal Belfast Hospital for Sick Children three years ago, has said he believes everything was done for him.
Orin McBride, 14. from Strabane Old Road in the Waterside area of Londonderry died in June 2015.
The 14-year-old was transferred to Belfast from Altnagelvin hospital.
The inquest into Orin's death is being held at Strabane courthouse.
His mother told the inquest on Monday that she did not give doctors permission to switch off his life support.
Dr Andras Szbo, lead clinician of the multi disciplinary team treating Orin, told the inquest that he believed everything possible had been done for his patient and that in hindsight there was nothing he would do differently.
'Appropriate and in accordance'
Dr Szbo said: "Orin, who had a complex medical history including hydrocephalus, epilepsy and autism had been admitted to the Royal Belfast Hospital for Sick Children in February 2015 for a ten week period, which included four weeks in the paediatric intensive care unit when the pancreatitis was discovered."
After treatment Orin was discharged but was readmitted to the intensive care unit on 19 June after his condition started to deteriorate again.
Orin's condition continued to worsen and on 28 June a decision was made by the medics on duty to turn off life support to the boy and he died a short time later in his mother Majella's arms.
Dr Szbo told the Northern Ireland coroner, Patrick McGurgan, he believed Orin's treatment was "appropriate and in accordance with recommended guidelines" and if the situation arose today Orin "would be treated in the same way".
Dr Szbo added: "I spent considerable time reading through the medical notes. I don't feel I personally could have done anything to change the outcome."
Dr Szbo explained how pancreatitis was extremely rare in children occurring only twice in every 10,000 incidences but that in March 2015 the medics had found a pseudocyst on Orin's pancreas.
The doctor also told the court a number of possible causes for the pancreatitis had been explored including changing Orin's epilepsy medicine, which was understood to have a link to pancreatitis. He added that no actual cause was ever found.
After treatment, the pseudocyst had shrunk and Orin's general condition had improved. Therefore an agreed care plan was put in place in May 2015 that would allow him to be discharged home to his mother.
Dr Szbo described Ms McBride as "brilliant" at caring for Orin which echoed sentiments expressed earlier by other medics in their evidence.
Orin's discharge home was on the understanding that if he became unwell he was to be readmitted to the hospital. This was because the pancreatitis had not gone away.
Orin's condition did deteriorate and he was admitted to Altnagelvin hospital on 16 June suffering from renal failure before being transferred to Belfast three days later when a bed was available.
During the transfer Orin became unconscious and was admitted to the intensive care unit.
The coroner, Patrick McGurgan, asked Dr Szbo if it would have been preferable for Orin to have been transferred immediately to the Royal Belfast Hospital for Sick Children on 16 June when he was admitted to Altnaglevin.
Dr Szbo said he "cannot deny" it would have been better but stressed he could not comment on the effect of the treatment given during the three days from 16 June to 19 June.
As Dr Szbo left the witness box and made his way out of the court, Orin's mother approached him at the door and the pair embraced.
The inquest continues.